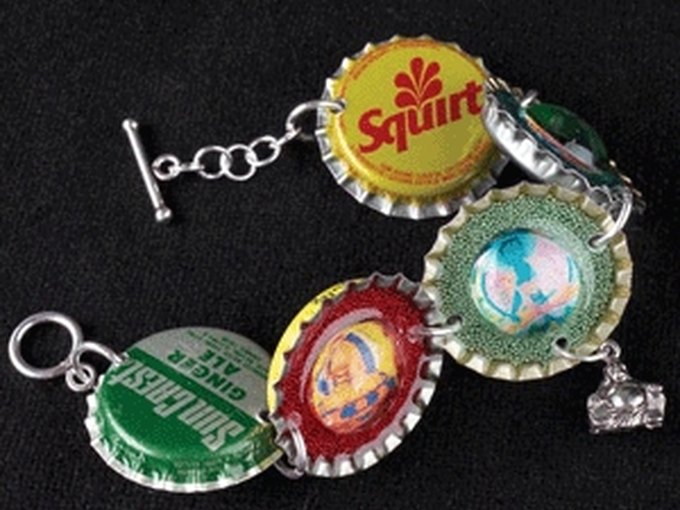 Bottlecap jewelry is very popular with young ladies and is so easy to make. It's also an inexpensive craft and can be made by beginning jewelry makers. These bracelets, as well as keyrings and necklaces, also sell well. Click on images to get a good look at detail!
This article will give basic instructions on making Bottlecap Jewelry, with some pictures of interesting designs. You can modify the designs to suit your taste or to the market you want to selling to.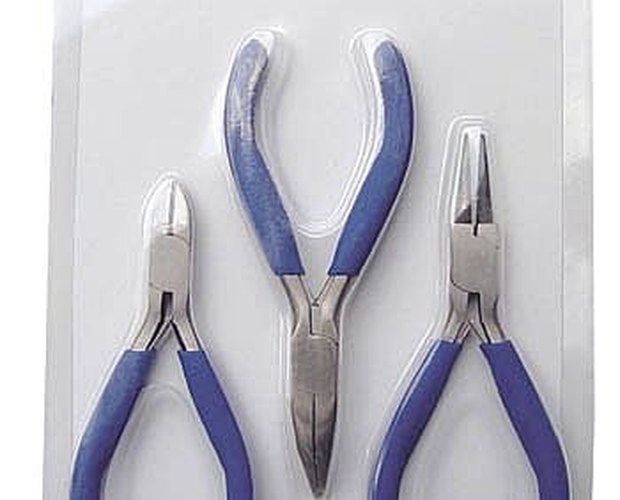 First, gather your tools and study some pictures of bottlecap jewelry for inspiration. Most hobby stores carry a small set of jewelry making tools. It has just about everything that a beginner needs and is inespensive.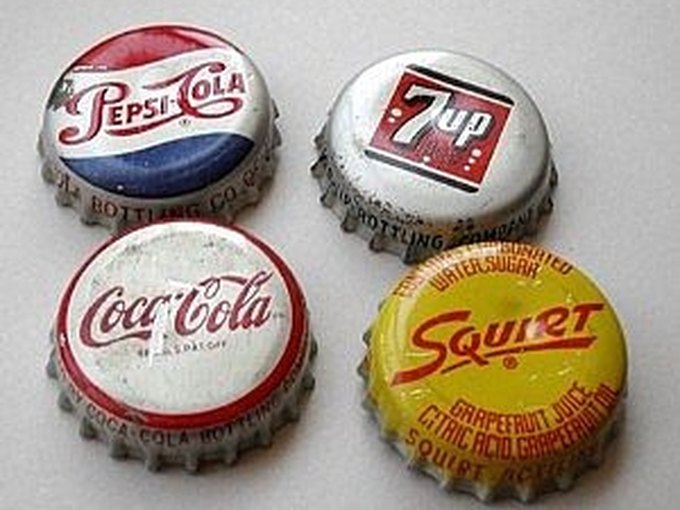 Next, gather your jewelry making supplies. If you can not find real or vintage bottlecaps, you can buy some at the craft store. Real bottlecaps are available online.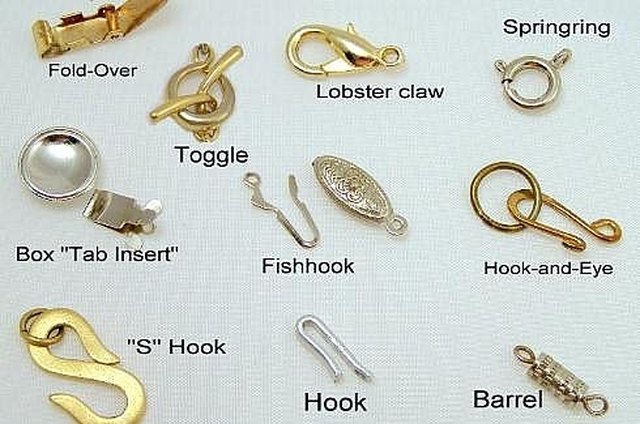 Jewelry making hardware, like crimp rings and head pins are available at any craft store.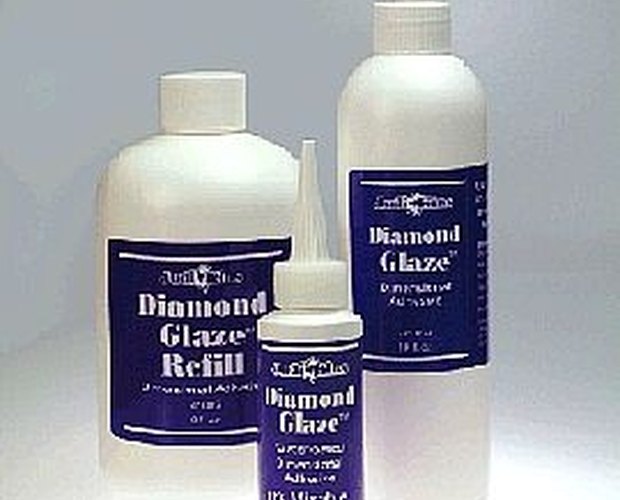 Get some Diamond Glaze in the glue section of your craft store. It is a dimensional clear glue. You can cut tiny pictures and glue them into the bottle cap and cover with Diamond glaze for an interesting and professional look!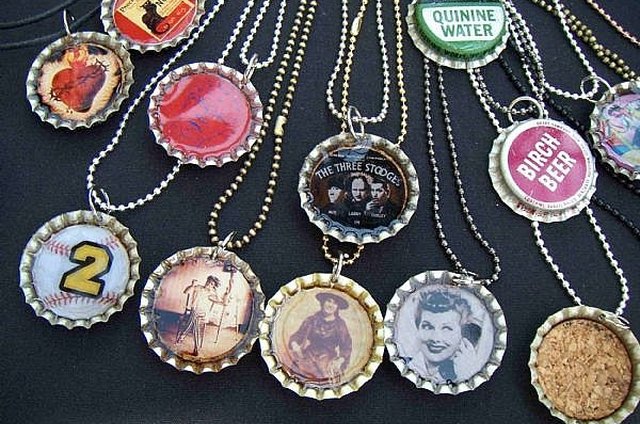 Choose some cute pictures to put in your bottlecaps. If you have a picture that's too big, you may have to copy it smaller. Each picture will have to be cut to a circle, about an inch in diameter. Fun Ideas: - a picture of your beloved (person, cat, whatever...) - an interesting quotation - logo from your favorite band - picture of a famous singer (the one on my keychain has Bob Marley) - Dr. Seuss Pictures - a hand-drawn miniature picture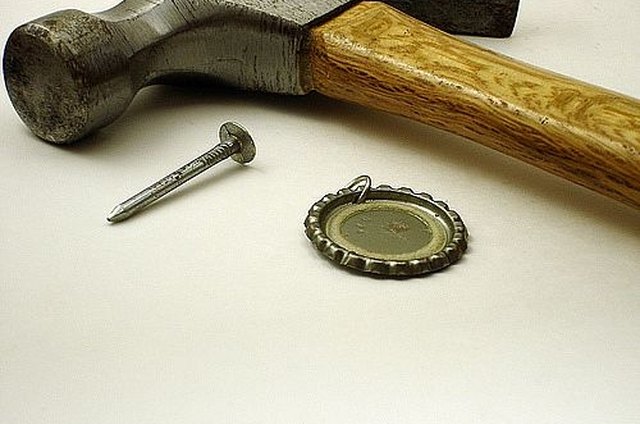 TO MAKE THE JEWELRY:
Make a hole in the side of the bottlecap. If you don't have a drill, you can hold the bottle cap on it's side on a piece of wood and make a small hole with a hammer and nail. If the hose has a burr, you can file it off with a nail file. If you are adding a charm or beads, you may have to make more holes.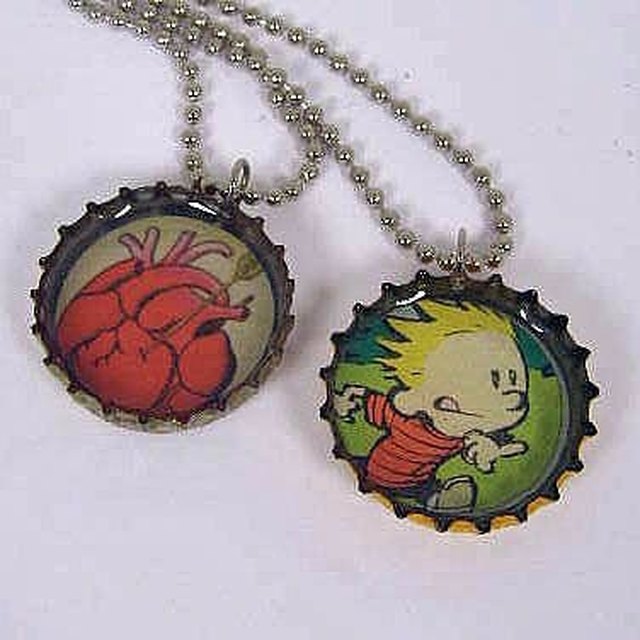 Glue your picture into the bottlecap. Make sure the top of the picture is near the hole you made if you are making a charm bracelet or keychain. Once it dries, coat liberally with Diamond Glaze. Dry thoroughly.
Add Jump rings and charms (if desired). See attached link for basic jewelry making tutorials.
Tip
This is a really fun craft project for teens. If your teen is creative and looking for a way to make a little money, this fashion jewelry sells well to friends and schoolmates. It requires only a small investment.
Warning
You can't sell copywrited images without permission