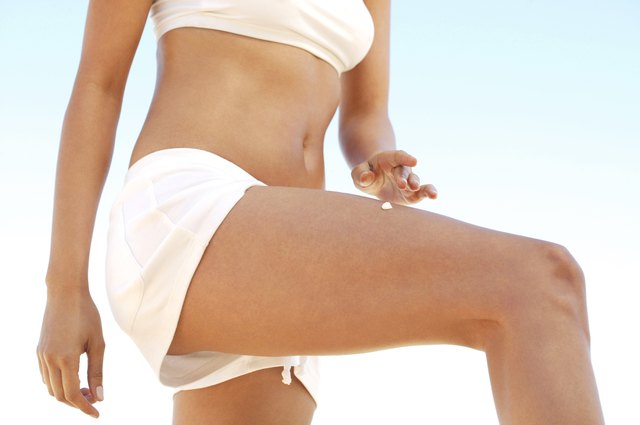 Goodshoot/Goodshoot/Getty Images
Raw shea butter and coconut oil are common ingredients in skin care preparations like lotions, hand cremes and body butters. These rich, nourishing ingredients provide deep moisture to dry skin while rejuvenating and protecting damaged or chapped skin. Make your own body lotions at home using these ingredients in combination with essential oils to give your body lotion a pleasant scent. You can find these ingredients at most natural food stores and farmer's markets. Pure, unrefined organic ingredients are recommended for optimal results.
Measure 3 cups of water and pour the water into your medium saucepan. Bring the water to a boil.
Lower the medium bowl into the water. Reduce the heat to a simmer.
Pour 6 oz. of shea butter into the medium bowl. Allow the shea butter to melt completely. Add 4 oz. coconut oil into the bowl.
Break open the Vitamin E capsule and add the contents of the capsule to the bowl. Mix in 1 tsp. of cornstarch.
Add 8 drops calendula oil, 6 drops lavender oil and 3 drops ylang ylang oil.
Pour 1 cup of water and 1 cup of ice into the large bowl. Remove the saucepan from the stove top and turn off the burner. Place the medium bowl into the large bowl and beat the ingredients together until the lotion blend develops a creamy consistency.
Pour the lotion into glass jars and seal each jar with a lid. Store the jars in your refrigerator and use the lotion within one week.