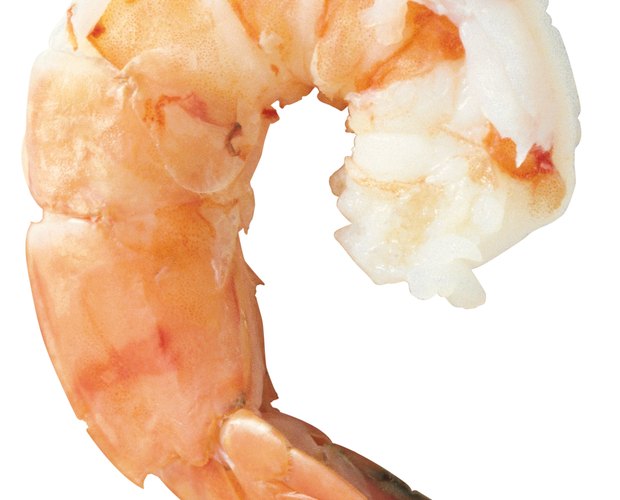 Comstock/Comstock/Getty Images
Although crawfish boils are the most well-known type of seafood boil, in the coastal regions of South Carolina and Georgia, the low country boil makes shrimp the star of the show. Boiled in a large pot with corn, red potatoes and sausage, low country boil is ideal for an outdoor party. If you are hosting 10 to 12 guests, use a recipe that serves that amount or scale the recipe so that each person will have at least one serving of this regional favorite.
Prepare your outdoor space for a traditional boil. Low country boil is typically prepared in a large pot on a burner outside and served on picnic tables lined with newspaper. Use several layers of newspaper and make sure you have enough seating for at least 12.
Prepare the ingredients for the low country boil by slicing the sausage in 1 1/2-inch pieces, cutting each ear of corn in half. Peeling the shrimp is an optional step, as the shell helps retain more flavor in the shrimp.
Place the 4 lbs. of red potatoes in the large pot, and add about 5 qt. of water, the 3-oz. bag of boil seasoning and 4 tbsp. of Old Bay spice and bring to a boil on the propane burner. Allow it to boil for five minutes.
Add the sliced sausage and ears of corn, then return to a boil, cooking for another 10 minutes, until the potatoes are tender.
Add the shrimp and cook for another three to four minutes, until they are fully pink.
Drain the water from the pot, then pour the boil onto the newspapers on the tables so that there is food along the length of the table.
Place bowls of cocktail sauce and bowls of melted butter on the table. Also place plastic bowls for discarded shrimp shells, and let everyone dig in.
Tip
Feel free to tweak the recipe slightly if you want to add or omit some ingredients. For example, you can add crab legs in addition to or in place of shrimp, or add sliced lemons to cut the spiciness.
If you are planning a more elegant affair, serve the boil in individual bowls.