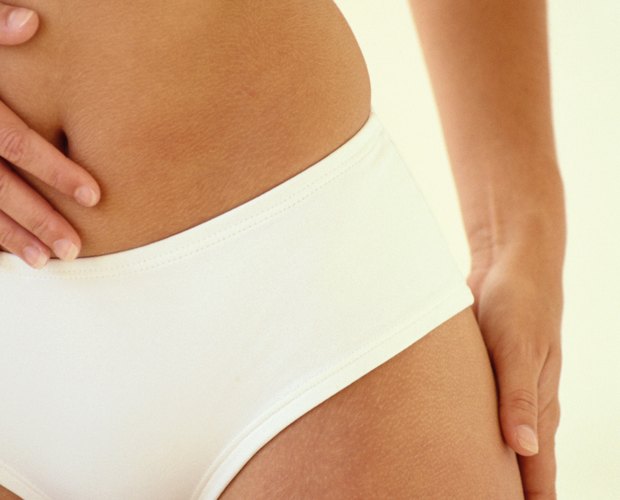 Pixland/Pixland/Getty Images
Most women have cellulite and although they do not like it, they learn to plan their outfits around it. Do not shy away from wearing a short dress because you are self-conscious about your cellulite. There are many ways to disguise your cellulite so that no one besides you even knows it is there.
Shapewear
Disguise your cellulite by wearing appropriate hosiery underneath your dress. Wear a body shaper that provides coverage from your stomach down through your mid-thigh area. Just make sure that it does not fall below your dress. You can also wear leggings, tights or dark pantyhose underneath your dress to disguise cellulite.
Tanning
Apply self-tanner to areas where you have cellulite, as it is not as noticeable on darker skin as it is on pale skin. Be careful to apply the self-tanner evenly so that it looks natural and not splotchy. Start applying the self-tanner a few days before you plan to wear the dress, so the color can gradually darken your skin. You do not want to worry about both cellulite and improperly applied self-tanner.
Shoes
Choose high-heeled or wedge shoes over flats and shoes with an ankle strap. Shoes with a heel will elongate your legs, making your cellulite less noticeable. People will focus on your long legs, instead of the cellulite on your thighs.
Dress Length
You can still wear short dresses when you have cellulite, but choose a dress that covers your problem area. For example, if you have cellulite on your upper thighs, find a dress that falls just below that area. You still may wear a short dress, but since it covers your cellulite, you will not have to spend the night being self-conscious about it. Choosing a dress that flatters your body type is the best way to look and feel great.