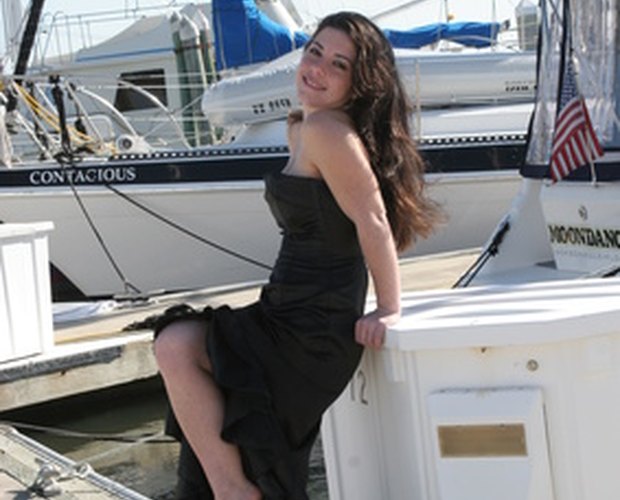 Nothing makes a statement walking into a ballroom like a beautiful woman wearing an evening dress with a train drifting gracefully behind her. Some dresses purchased off the rack or ordered from the manufacturer from standard sizing choices may be extra long because it's easier and cost effective to hem a dress to shorten it than to somehow add extra fabric or trim to make it longer for taller women. If you're not one of those taller women, hem your dress in three parts, separately shortening the dress, lining and train for a gown that conforms to your measurements.
Put the dress on the woman who will wear it. Ask her to wear the shoes and bra she will wear with the dress.
Use the fabric marker to mark where she approximately wants the hem on the dress, lining and train. Pin up the marked hems on the dress, lining and train all the way around while the gown is on the model. Allow her to look at the proposed hem length and judge its appropriateness to the gown. Adjust accordingly.
Measure the hem from the bottom of the dress to make sure it's even all the way around. Repeat this step for the lining separately and then the train. Adjust accordingly.
Use scissors to cut the tack, or piece of thread holding the dress to the lining and any stitching holding the train to the dress if applicable so you can sew each piece separately.
Iron the hem on the dress using the lowest heat in the folded position. Fold up the top edge of each hem 1/4 inch and press to create a finished edge at the top of the hem. Repeat for the lining and the train. Do not iron if the dress has beading or if the lining is made of such a fragile fabric that it would not withstand the heat of even a warm iron.
Stitch the lining, dress and train as pressed at the top of the fold of each piece.
Tip
If you have a serger, skip the folding over the top edge of the hem to finish the edge. Instead, serge the hem as you sew it to finish it correctly. Serging trims the hemmed edge evenly while sewing it with a secure stitch to prevent raveling.
Warning
If your evening dress and train have a scalloped or trimmed hem and shortening them at the hem would damage that detail, the dress can only be shortened at the waist. Use a seam ripper to remove the skirt and train from the bodice. Pull up the skirt, lining and train until they are the desired length. Gather and pin to the bodice. Trim away the excess fabric and stitch as pinned.