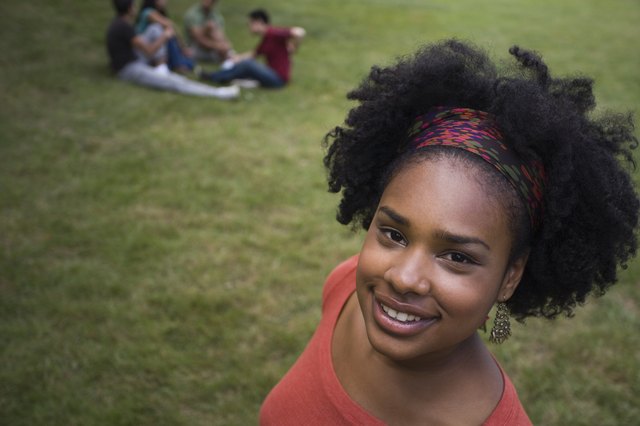 Jupiterimages/Comstock/Getty Images
Returning your hair to its natural texture involves learning new care and styling techniques that you might not be familiar with. Many women don't take the plunge into natural hair because they fear losing some of the length of their hair. Although it is a popular practice to make "the big chop," which involves cutting away all hair that has been chemically processed, this is not necessary. It is possible to go natural and not cut away large portions of your hair.
Stop chemically altering your hair. This is the main step in returning your hair to its natural state.
Trim away only the damaged edges of your hair. Regardless of how you wear your hair, damaged ends can split and spread up the shaft of your hair, causing additional breakage.
Trim away a little of the relaxed portions of your hair as new growth comes in. If you are worried about losing length, measure the amount of growth that you experience monthly, and cut away this amount or a little less from your relaxed hair. A licensed cosmetologist can help with the trimming process.
Use hairstyles that hide the difference in your hair's texture as you grow it out. Braids, weaves, twists and roller sets all can provide an attractive way to style your tresses that blend the relaxed hair with the new growth.
Tip
There might be a noticeable difference between your chemically treated hair and the new growth that begins to come in.