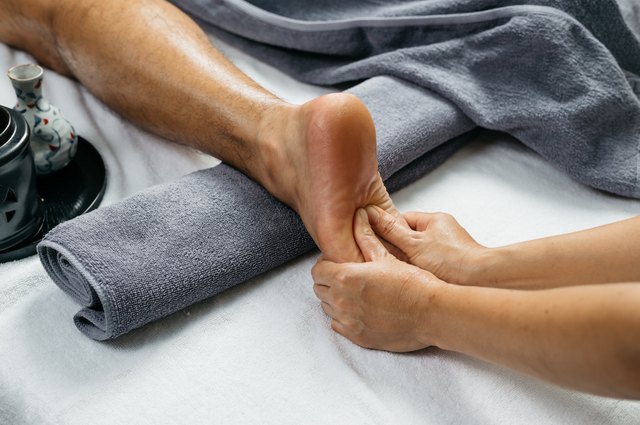 A foot massage can be a very relaxing and sensual massage. You don't have to be trained in massage to do it, and it's a pleasure to give and a pleasure to receive. Below is a list of the various techniques that make up a sensual foot massage. You can use these techniques if you'd like to give someone you know this special treat.
How to Give a Sensual Foot Massage
Spread towel across table.
Have volunteer lie on table with feet on towel.
Hold volunteer's feet for a moment (one foot in each hand), and then gently squeeze feet, starting from the ball of the foot, working your way down to the heels.
Run hands over and down tops of both feet simultaneously, and then up tops of feet. Repeat five times.
Gently pull each toe, squeezing each toe gently as fingers slide over each toe.
Gently press thumbs into soles of feet, working from heels to tops of feet in vertical rows.
Grab each foot with each hand and swirl thumbs around in small circles, doing this all over bottoms of feet and working your way to the tops of the feet. Slide thumbs down to bottom of feet and repeat two times.
Make a fist and slide bent fingers from side-to-side on sole of one foot, starting from just below toes and ending at bottom of heel. Do the same on the other foot.
Swirl thumbs around in large circles, working your way up the soles of both feet.
Slide thumbs up the soles of both feet, stopping midpoint at bottom of ball of foot. Press thumbs gently into feet and hold for a few moments to end sensual foot massage.