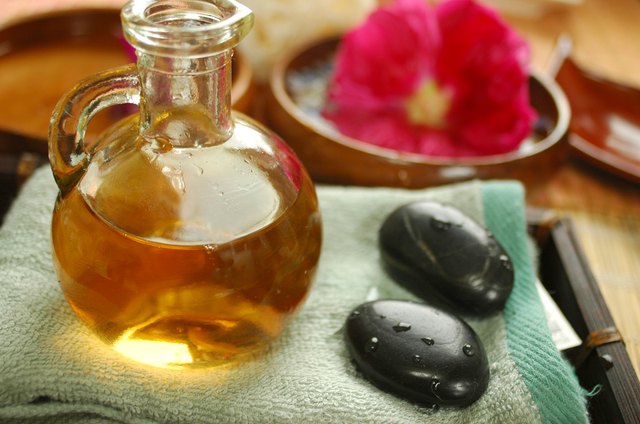 Eczema is an allergy-related condition that causes the skin to become irritated, itchy, and inflamed. For people with aging skin, it can be complicated to treat wrinkles after dealing with an eczema flare-up. Many wrinkle creams and lotions contain harsh chemical ingredients that can exacerbate eczema. Fortunately, wrinkles can be effectively treated and managed by applying a few natural skin-soothing treatments that are both helpful for wrinkles and gentle on the skin.
Massage 1 tbsp. of a mixture of extra virgin olive oil and castor oil into the skin for 2 minutes, using your fingertips. Drape a damp, hot washcloth over the face and leave it on until the cloth is cool to the touch. Gently wipe away the excess oil with the damp washcloth. Repeat this procedure until all of the remaining oil has been removed. Olive oil and castor oil are non-comedogenic (do not block the pores), and olive oil is one of the most ancient of skin-cleansing oils. You can also use sunflower seed oil or mixtures of these oils. Use olive oil instead of using strong soaps and cleansers, which contain anti-wrinkle ingredients that could irritate the skin. Cleansing the skin with oil is a wonderful way to clean out the pores while simultaneously hydrating the skin.
Soak cotton pads in lemon juice and place them onto the affected area. If on the face, lay 2 on the forehead, 1 on the chin, and 1 on each cheek. After around 5 minutes, remove the pads and allow the skin to dry naturally. Lemon juice is a naturally acidic toner that is high in vitamin C, and it can be applied to the skin daily. The skin's surface is naturally acidic, so applying an acidic toner prevents inflammation and helps protect the delicate acid mantle, which controls oil production and balance in the skin. Many anti-aging toners found in stores can be too alkaline, which can worsen eczema and can irritate the skin. Vitamin C helps the skin rebuild skin cells, which is very effective in reducing wrinkles by gently sloughing off dead skin cells and building new ones.
Massage rose hip oil directly onto the creases in the skin for deep treatment. Dip your fingertips into the oil, and massage it deeply into the wrinkles for 2 to 5 minutes. Allow the excess oil to remain on the skin for an additional 5 minutes before wiping off with a soft washcloth. Rose hip oil comes from the ovaries of rose blossoms and has been used for centuries to smooth wrinkles and hydrate the skin. Rose hip oil is very gentle, and can actually soothe eczema itself and other irritated skin conditions.
Resources