It's easy enough to cover up dark spots on your lips using a darker lipstick and lip pencil. But what about when you want to wear a lighter shade or gloss, or even go lipstick-free? With a few simple home remedies using ingredients you can find in your kitchen, you'll be on your way to healthy pink lips again. Try out a few of them until you find one or two that work for you, and then take steps to prevent dark spots from developing in the future.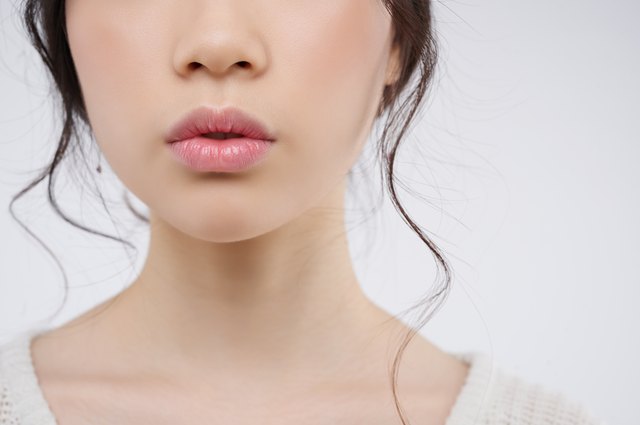 Acidic Remedies
Both lemon and apple cider vinegar are effective and inexpensive remedies for dark spots on your lips. The acid in either the lemon or the vinegar will lighten and exfoliate the skin to reveal your natural pink lips. For the apple cider vinegar remedy, simply dip a cotton swab in the vinegar, apply it to the affected area up to three times per day, leave it on for a few minutes and wash away with water. For a lemon remedy that's also hydrating for your lips, mix one or two drops each of lemon and honey, and follow the same steps.
Moisturizing Remedies
Various oils can help remove dark spots from your lips while also moisturizing them. Use clean fingertips to massage your lips with a small amount of almond oil, which is rich in skin-nourishing vitamin E and can help lighten your lips. Rose oil, which contains astringent properties that help reduce dark spots, is another good choice.
Sugar Scrubs
You may choose to combine any of the remedies above with a sugar scrub. Sugar acts as a natural exfoliant to gently slough off dead skin cells and darker pigmentation to reveal pink lips. To make your own scrub, simply mix sugar and water and massage onto your lips for 10 or 15 minutes daily until the dark spots disappear. If you wish, you can also add a few drops of almond or rose oil for a two-in-one solution.
Possible Causes
To prevent dark spots once you've gotten rid of them, it's important to uncover the underlying cause. There are many possible reasons you may develop dark spots on your lips, ranging from cosmetic to deeper health concerns. Usage of old lip products, excessive drinking or smoking, sun exposure or lip dryness (which can lead to chapping and infection) can cause spots to develop on your lips. A vitamin B deficiency, a hormonal imbalance or excess iron in the body are other possible reasons. To prevent dark spots, toss all expired lip products and keep your lips hydrated with a lip balm containing sun protection. If the spots continue, see your doctor to investigate any possible more serious health issues.