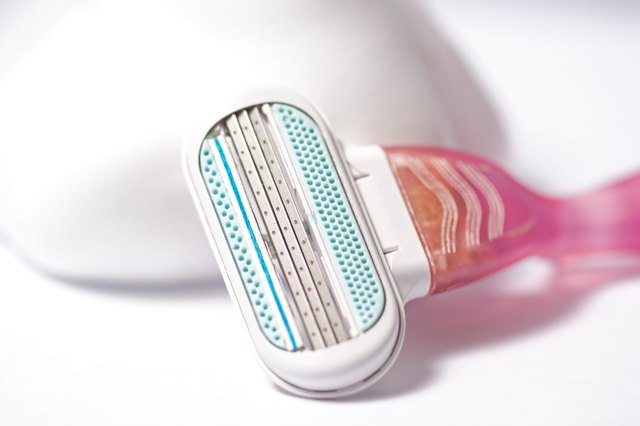 Tiny red bumps that pop up on your skin don't do your freshly shaved bikini area any justice. A rushed shaving routine without the right products can result in a red, bumpy bikini line, which certainly isn't beach ready. Investing in the right tools is the first step toward a smoother and bump-free bikini area.
Step 1: Trim Long Hair
Use a pair of hair scissors to trim any hair that exceeds about 1/4 inch. Carefully snip the ends of those hairs so that your bikini area hair is about the same length: 1/4 inch.
Step 2: Soak Up the Steam
Step into a steamy hot shower, and let the water moisten your skin. Your hair will also soften, making it easier to remove. Therefore, your skin will be less irritated by the razor, resulting in fewer bumps.
Tips
Shave at the end of your shower. Take care of the washing, conditioning and shampooing before you take the razor to the bikini area. By giving this area time to soften, the skin will be well prepped for a successful shave.
Step 3: Apply the Shave Gel
Massage a dime-sized amount of shaving gel into the bikini area (a little shave gel typically goes a long way). Use this gel as your lubrication, which will guide your razor along your skin without irritating it.
Tips
If you don't have any shaving gel on hand, try hair conditioner, which is a superior, ultra-lubricating option compared to soap and water.
Step 4: Shave in the Direction of Hair Growth
Take a new, clean razor to your bikini line, shaving one small strip at a time in the direction of the hair growth. Rinse the razor after every swipe to eliminate hair and dead skin that can dull the blade. Reapply shaving gel as needed to ensure the skin and hair are always properly lubricated.
Tips
Razors and trimmers especially for your bikini line are designed to hug every curve and offer a close, nick-free shave. However, traditional razors and trimmers will also do the job, as long as the blades are sharp, so opt for the tool that you're most comfortable using.
Step 5: Tone the Skin
Apply a natural, botanical toner to the bikini area skin after shaving it. Look for a toner with nourishing and gentle ingredients such as witch hazel or rosemary. This toner can help cut down on any post-shaving rash or razor bumps.
Tips
Should an irksome rash or bumps appear despite your best efforts to avoid them, apply an antibacterial cream to tone down the irritation. Coconut oil is another way to soothe an irritated bikini line and minimize risk of infection.