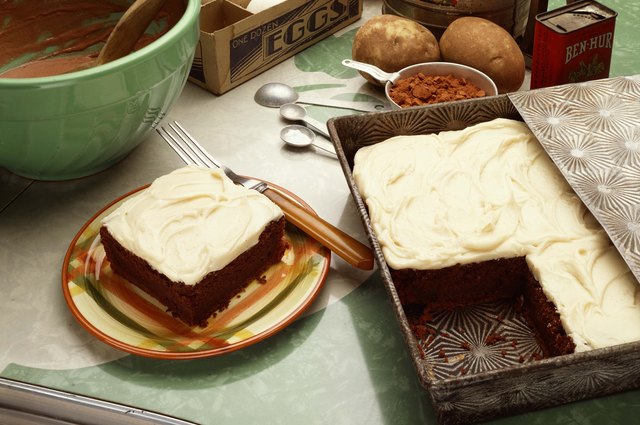 Sheet cakes are baked in flat and rectangular pans. The cakes consist of one single-layer, and they are frosted to decorate the cake for any occasion. Sheet cakes are generally inexpensive to make, and they are commonly sold at grocery stores. You can make a sheet cake in many different flavors, adding other ingredients such as coconut or chocolate chips to the batter. You can prepare a sheet cake in advance and freeze it to save time.
Bake the sheet cake according to the recipe. Allow the cake to cool completely. For best results, freeze the frosting separately. If you must frost the sheet cake, place it into the freezer before you wrap it to harden the frosting.
Wrap the cake with aluminum foil so that no parts of the cake are exposed. Wrap it carefully so that you do not crush it. For best results, place the sheet cake in the center of the aluminum foil and then fold the edges over the cake. Roll the seam against the sheet cake and press the ends together.
Place the sheet cake into the freezer. Freeze it for 4 to 6 weeks for best results.
Thaw a frosted cake in the refrigerator. Thaw an unfrosted sheet cake on a rack at room temperature for one to two hours.
Tips
Freeze frostings in airtight containers for one to two months. The frosting may lose some of its shine or gloss.