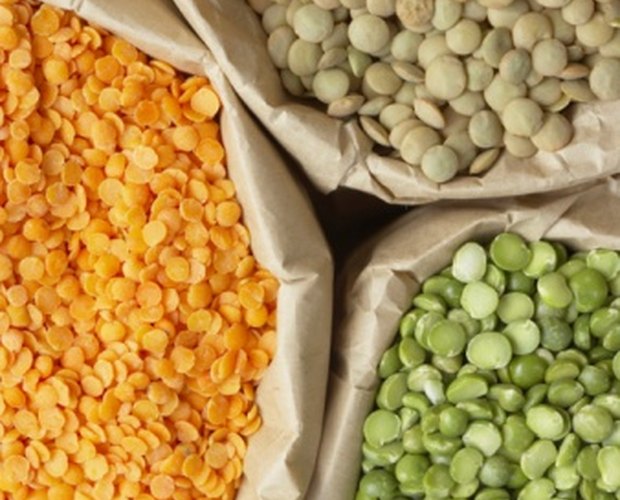 Jupiterimages/Photos.com/Getty Images
Lentils are protein-rich legumes that form part of the regular diet in several Asian and Middle Eastern countries. A variety of pulse, lentils are available in several colors, shapes and sizes, and in unhulled or split varieties. Lentils are high in B vitamins and minerals such as phosphorous and iron and have a mild, earthy flavor that you can enjoy in several different ways. Flavor lentils with seasonings from Mediterranean and Indian cuisines and enjoy it as a soup, or transform it into a wholesome salad meal.
Lentil Soup
Set 1 cup of brown or red lentils in a bowl. Add 2 cups of water and soak the lentils for at least two hours prior to cooking. This will improve their digestibility and also reduce cooking time. Drain the water. Place the lentils in a colander. Wash and rinse, and set aside.
Use mild Mediterranean seasonings to flavor the lentil soup. In a stockpot, heat 1 tbsp. olive oil. Add two bay leaves and 1 finely chopped garlic clove and saute for 3 minutes.
Add 1/2 cup diced carrots and 1/4 cup parsley and cook for 5 minutes, stirring occasionally. Add 1 cup of lentils and 2 cups of water, and cook for 20 minutes. Add 1 tbsp. dried thyme leaves and1 cup of vegetable or chicken stock and bring to a boil.
Reduce heat and simmer for 5 minutes. Remove the lentil stockpot from the heat. Add 1 tsp. of salt and 2 tbsp. of lemon juice. Stir well and serve with toasted bread.
Use a South Asian seasoning instead of the Mediterranean seasoning to prepare a warming Indian dal or soup. Saute 1 chopped onion, 1 tsp. each of curry powder, coriander powder and cumin seeds in 2 tbsp. of cooking oil, for two minutes. Add the lentils and cook for 20 minutes or until soft. Mix salt and pepper according to taste, and garnish with 2 tbsp. of chopped cilantro. Enjoy the dal plain or with Indian bread, also known as chapati.
Salads
Blend a variety of flavors by combining cooked green lentils with salad vegetables and meats. Green lentils are ideal for salads as they have a nuttier flavor than most other lentils and remain firm when cooked. Set 1 cup of cooked lentils in a bowl. Add 1/4 lb. of smoked and diced poultry or fish such as chicken, duck or haddock. Garnish with 3 tbsp. of finely chopped baby spinach. Season with salt, pepper and lemon juice, and serve.
Prepare a quick salad by mixing 1 cup of lentils with 1/4 cup of salad dressing. Use a dressing prepared from hazelnut and walnut oils, a spicy vinaigrette or a creamy sauce. Garnish the lentil salad with 2 tbsp. of shredded ham hocks and serve.
Mix 1 cup of lentils with a ready-made or homemade salsa and serve with 2 tbsp. of chopped and sauteed sausages.
Tip
Lentils take longer to cook if you season them with salt or lime and vinegar at the start of the cooking process. Add these seasonings when the lentils are cooked.