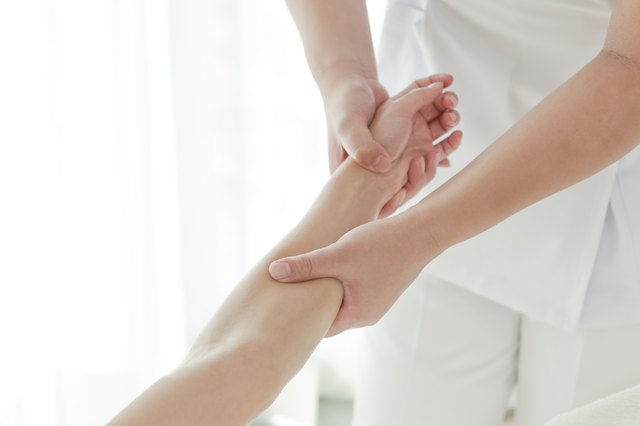 Several acupressurepoints have been associated with encouraging sleep and relieving insomnia. Different acupressure points will be more effective for different sleep troubles. Here's how to find the basic sleep-inducing pressure points.
Place your thumb in the middle of the inner part of the opposite arm, about two or three finger widths below the wrist crease. This is called the "Inner Gate," or pericardium six. This point helps induce sleep, and is also very useful for relieving dizziness, nausea and difficulty breathing. Press the point with your thumb with gradually increasing pressure. Move your thumb if necessary, until you feel a spot of tension within your arm.
Place your finger or thumb in the wrist crease on the outside of the inner part of the hand, in line with the little finger. This point is the "Spirit Gate." Apply gentle pressure. This pressure point helps to relieve insomnia, fear, anxiety and a racing mind.
Place your finger about one finger's width below the bone of the inner ankle. This is point six on the kidney meridian. Placing gentle pressure on this point helps to promote deep RAM sleep. This point also helps to regulate the kidneys and to regulate the menses in women.
Move your finger to the point just below the outer anklebone. This is point number 62 on the bladder meridian, which is effective in relieving insomnia and minor mental distress. Use this point if you are lying awake due to headaches, leg aches or lower back pain.
Reach behind your head and place both thumbs at the point at the base of your skull. This point is number 20 on the gall bladder meridian, and is one of the most important points in acupressure, especially for those who carry a great deal of tension. Applying gentle pressure to this point can help to relieve insomnia, tension headaches, dizziness and nervous disorders. It is also extremely important for relief of problems that affect the neck, shoulders and upper back.
Stimulate the primary yin points, which occur on the meridians at the front of the body and along the insides of the arms and legs. Stimulating yin energy within the body can help to relieve disorders in which yang is excessive, such as nervousness and anxiety. Important yin points occur one finger width above the eyebrow in line with the eye, in the point where the rib cage meets the collar bone, on the inside of the rib cage by the diaphragm, on the inside crease of the elbow. For more yin pressure points, consult a good reference on acupressure.
Tips
Acupressure points correspond perfectly to the points used in acupuncture.
Resources