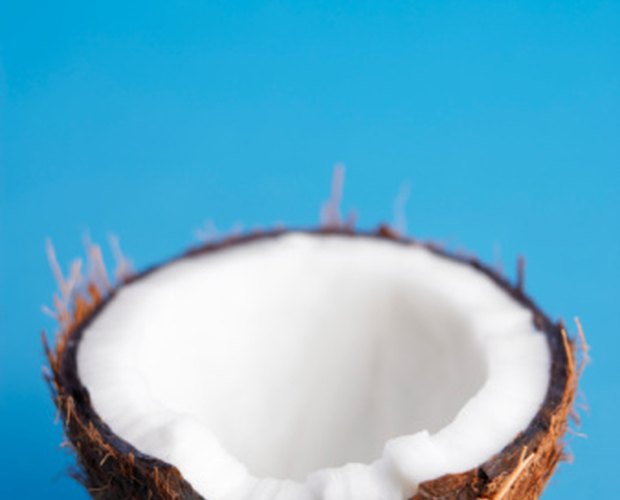 BananaStock/BananaStock/Getty Images
Fermented coconut milk tastes like dairy yogurt and has many of the same properties as yogurt made from cow's milk. Use fermented coconut milk in smoothies, over cereal and fruit and in recipes that call for yogurt. Fermented coconut has a rich, creamy texture and it's rich in probiotics. You can make your own fermented coconut milk at home so you can enjoy this tasty and nutritious treat any time.
Add the coconut milk to a medium saucepan and cook on medium heat. Use a cooking thermometer to register the temperature, and remove from the heat when the coconut milk reaches 125 degrees F.
Cover and cool the coconut milk to 110 degrees F. Ladle 1 cup of the coconut milk into a glass jar. Mix with the acidophilus powder or yogurt to make a thick paste, which will activate the fermentation process.
Mix the paste with the remaining coconut milk. Add the agave nectar or honey to sweeten the fermented coconut milk.
Pour the coconut milk mixture into a glass jar or covered stainless steel container. Cover and let it ferment for 24 hours at a temperature between 100 and 110 degrees F. To achieve this required temperature, keep the yogurt in your oven with the light on or in a food dehydrator. Avoid too high a temperature because it will kill the bacteria that cause the fermentation process. Too low temperature will prevent the bacterial enzymes from activating.
Remove the fermented coconut milk from the oven or dehydrator. The coconut milk will thicken during fermentation, but it will not be as thick as regular dairy yogurt. Store in the refrigerator up to 7 days in an airtight container.
Add more honey, agave or fruit for sweetened fermented coconut milk. Add to smoothies as you would milk-based yogurt.
Tip
Use full-fat coconut milk for a richer texture. For best results, use coconut milk that does not contain preservatives. Look for a version that does not contain guar gum, a thickening agent that can affect the taste and texture of the fermented coconut milk.