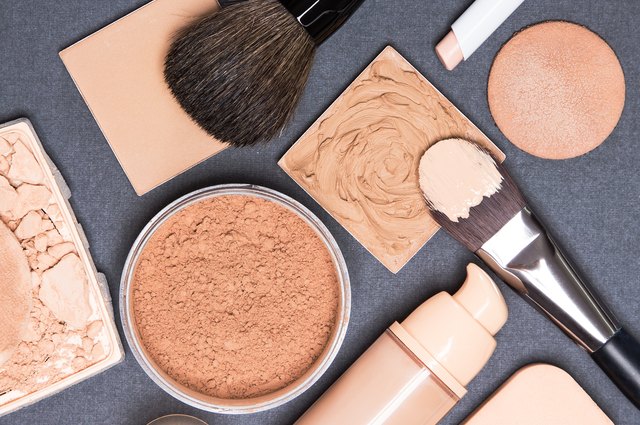 If you want a glowing complexion but don't want to expose yourself to the health risks of sunbathing, a fake tan is your next best option. You can temporarily deepen your complexion to a rich bronze using makeup. By using proper application techniques you can keep your fake tan from looking artificial.
Select a powder bronzer rather than a cream or gel, because powder is lighter and more foolproof, since it can be added in thin layers. Choose a bronzer shade with golden or yellow undertones so it doesn't appear too dark and unnatural on your skin. Use a bronzer with a rosy pink undertone if you're very fair skinned.
Squeeze a dollop of tinted moisturizer (approximately the size of a quarter) onto a makeup sponge, then smooth it evenly across your face. A tinted moisturizer will give your face light coverage without adding a strong color to mix with or distort the tan's appearance.
Apply concealer to blemishes and dark circles under your eyes. Use your makeup sponge to lightly dab the concealer until it just blends into your skin. Ensure all imperfections are covered up because the fake tan may collect in those areas and make them darker and more noticeable.
Dip a medium fluffy powder brush into a translucent loose powder, then lightly tap your brush against the container lid to get rid of the excess powder. Sweep the powder evenly across your skin to set your makeup in place and add a smooth base for the tan color to adhere to.
Tap the medium fluffy brush into the powder bronzer, then lightly blow on it to remove the excess color so you don't apply too much at one time. Brush the bronzer around your jaw and hairline first to minimize having a telltale white ring around your face, then apply the color lightly onto your cheeks, nose, chin and down your neck.
Examine your fake tan color in natural light so you can see what it actually looks like. Use light layers and repeat the application process until you get the color you want.
Sweep a pink or rose colored powder blush onto your cheeks to complete the look. The blush will add a more believable color dimension to your fake tan and make it look more natural.
Tips
Make your own tinted moisturizer by adding 2 to 3 drops of liquid foundation to a regular facial moisturizer.