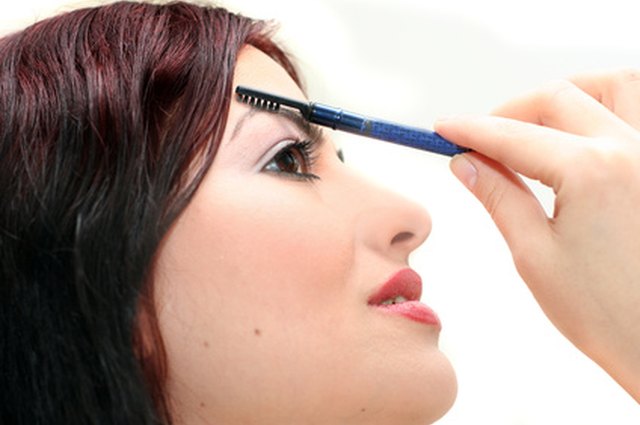 make up eyebrow image by Julia Britvich from Fotolia.com
Lightening your natural brow color can be accomplished several ways. The safest option is to have them done by a professional, however this can be expensive and require regular salon visits for upkeep. If you're hoping to find an at-home solution to dye your brows blond, always remember the safety of your eyes is key. If you take the necessary precautions for these at-home options, you can dye your eyebrows blond safely, effectively and at little to no cost.
Dying Your Brows
Choose a shade of blond hair dye that is close to your current hair color. If you're coloring your hair at home, save a small amount of the dye for your brows.
Add small, equal portions of each component of the dye to your bowl, ideally about a tablespoon or two. Use your plastic spoon to mix thoroughly. Ensure that the dye is not runny. If it is, add more of the powder or thick cream component (depending on the brand of dye) to thicken it up.
Apply some of the mixture to the skin on the inside of your arm or your neck. Wait 2 days. If no redness, burning or irritation occurs, repeat Steps 1 and 2 to prepare dye to use on your brows. If you have an allergic reaction to the dye it is highly recommended that you do not use the dye on your eyebrows.
Secure your hair away from your face. Wash your face with a mild soap and dry completely. Apply a thin coating of petroleum jelly, such as Vaseline, to your upper and lower eyelids, staying close to the lash line but avoiding eye contact. Spread the petroleum jelly about 1 to 2 inches out, coating the entire eye area until it is just below your brows. Have a bottle of sterile eyewash within reach in case any dye comes into contact with your eyes.
Dip your brow brush or mascara wand into the dye mixture. Coat it but scrape any excess off on the side of the bowl as it could drip into your eyes.
Brush the dye onto each brow, ensuring all strands are coated. Use a cotton swab to remove any dye above or below your eyebrows. Leave the dye on for no longer than the recommended time in the manufacturer's instructions, usually about 20 to 30 minutes.
Use a cotton pad to wipe off the dye. With a damp washcloth, wipe each brow to remove all traces of the dye, then wash your face thoroughly with a mild soap and water. Keep your eyes closed during this process until you are sure all dye is washed away.
Bleaching Your Brows
Purchase a facial hair cream bleach at your local drugstore or beauty supply store.
Wash your face with a mild soap and water. Dry completely. Secure your hair away from your face.
Keep a sterile eyewash within reach. Dip a cotton swab into the cream bleach, coating it lightly. Ensure no "globs" of excess bleach are on the swab, as these could fall into your eye.
Use the coated cotton swab to cover each of your eyebrows with cream bleach. Leave on for no more than 5 minutes. Keep in mind you can always re-bleach if you do not get the lightening results you desire, so it is better to remove the bleach too soon than too late.
Use a cotton pad to wipe off the cream bleach on each brow. With your eyes closed, rinse your face with warm water. Keep your eyes closed until you are certain the bleach is completely rinsed from your face.
Lightening Your Brows Naturally
Purchase a small bottle of pure lemon juice, found in any grocery store. You may also cut and squeeze a lemon, but you'll need about a tablespoon or so of juice.
Wash your face with soap and water, then dry completely.
Dip a cotton swab into the lemon juice, coating it completely.
Rub the lemon juice filled cotton ball over your eyebrows, coating them completely. Avoid getting the juice into your eyes, as it can cause irritation.
Spend some time in the sun, as this will cause the lemon juice to work as a natural bleach. You may not see dramatic results immediately, so repeat the above steps if you desire a lighter blond shade.
Tip
Dying your brows using lemon juice has the least health risks. Try this if you're concerned about allergic reactions to hair dye or cream bleach.
Warning
Using hair dye around your eyes poses serious health risks. Always perform the allergy test first. Getting hair dye solution in your eyes can cause permanent damage. Use extreme caution, and if this occurs, flush the affected eye with the entire bottle of sterile eye wash.