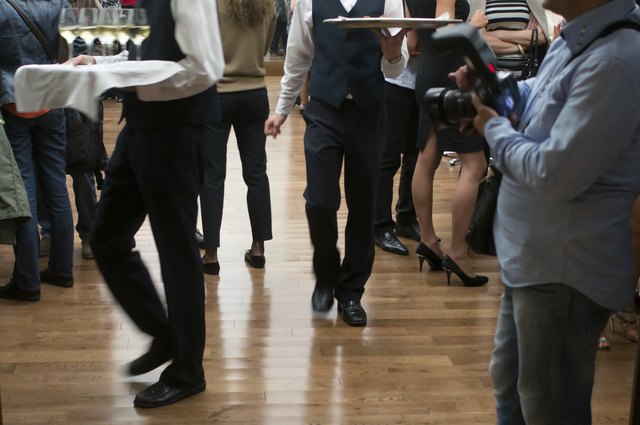 aerogondo/iStock/Getty Images
A gala affair could be the most glamorous evening possible, but skews semiformal more often than not. This can mean the difference between a dramatic floor-length gown with furs and a plain cocktail dress, with your beau either in a full tuxedo or just a basic business suit. Be sure you don't show up terrifically under- or overdressed -- call the event organizer beforehand to confirm the dress code requirements.
White and Black Tie
Feel free to glam it up for any elegant white tie gala -- a floor-length silk or satin gown like a ballgown, column or mermaid style is de rigueur. For black tie, one step down on the formality ladder, opt for a long gown in any color or a cocktail dress -- one that doesn't show too much skin or look too flashy -- in rich, dark colors like black, navy, charcoal or burgundy. Remember, the men may be in tuxedos -- make sure you measure up. For daytime events, a tea-length dress in pale colors and light, breezy fabrics like chiffon may be appropriate.
Semiformal Styles
Semiformal events call for a little less pizazz. Dresses can be cocktail length, or you can swap a short dress for dressy separates like a long skirt and floaty, romantic blouse or a blouse and dress slacks. Some galas, such as those for charities and other organizations, are much less formal business events, and even cocktail attire is far too much. Don't be that overdressed associate -- in this type of business setting, such as an after-work gala, a suit, suit dress or office-wear dress is the most professional option.
Accessories
At the upper levels of formality, men have more accessory requirements than women. Women can get away with strappy or pump heels, a few pieces of striking jewelry and a clutch purse in a luxury fabric like brocade, silk, satin, velvet or even crystal at the white tie and black tie levels. Makeup should be classic, with heavy emphasis on either eyes or lips, but not both. Traditionally, long white gloves are appropriate, but not required, for white tie galas. At a semiformal event, choose small, classic jewelry pieces that don't make too big of a splash, and pare down your pieces to only pearls or a scarf for a business event.
Seasonal Wear
Don't let a little snow spoil your gala affair -- chilly weather is no obstacle to style. At white tie events, women can wear an elegant dress overcoat in sedate colors, and then trade it for a cashmere wrap indoors. Dress coats, fur jackets and wraps adorn women at black tie galas. At semiformal events, similar outerwear is appropriate for a purely social event, but business events mean business outerwear, as well -- wool coats and trench coats.
References