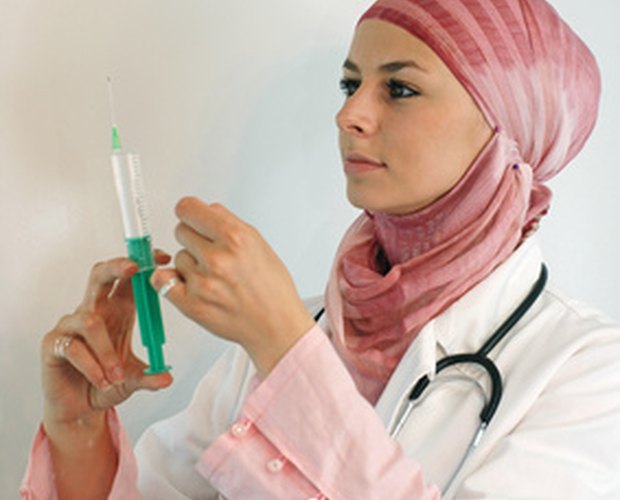 ready for injection shot image by DXfoto.com from Fotolia.com
Sometimes it is difficult for religious Muslim women to find fashionable modest clothing in the United States and Europe. Many Muslim women cover their head with a head-scarf (or hijab) and dress in long and loose-fitting clothing. Because of these discrepancies, Muslim girls have to employ creativity and ingenuity to dress fashionably. While some Islamic clothing stores have opened in larger cities, such as New York and Chicago, most Muslim girls do not have access to alternative stores. Despite these challenges, many Muslim girls still find ways to be modest and fashionable.
Do not shy away from patterns and prints. Sometimes, it is easy to wear neutral colors, since Muslim women wear many layers of clothing. However, plain colors are bland, especially in the spring. One solution from fashion website We Love Hijab is to wear a long classic A-line striped skirt with a silky shirt and floral blazer. Along skirt and classic blazer are long and concealing, thus appropriate for the modest Muslim girl's lifestyle. Do not go overboard with prints; wear a black scarf for a comforting finish. Mixing prints is a fashionable spring statement, as long as the outfit sticks to three carnal rules: 1) Keep one of the prints neutral in color. 2) Keep one of the prints simple. 3) Keep the shapes classic.
Dress in layers. It is often hard for Muslim women to find the latest trends of clothing as in modest silhouettes. Sometimes the skirts and shirt sleeves are too short; this problem can easily be solved by dressing in layers. A shin-length skirt can be worn over knee-high boots or black pants. A short-sleeve shirt can be worn over a matching long-sleeve shirt. The layers can be easy on the wallet as well; solid-color long-sleeve shirts can be paired with several outfits.
Pair loose fitting pants with long dresses. Thigh-length dresses are popular in fashion circles, and vary from being elegant to cute. Muslim girls can easily make these dresses modest and fashionable by wearing neutral and tight long sleeve shirts under the dress over fashionable pants. The type of pants you should wear depends on the desired look. Elegance is achieved with professional black suit pants; while jeans or leggings paired with long boots create a cute look.
Invest in long, slim fitting cardigans to wear over maxi dresses. They're also a cold-weather alternative to wearing long-sleeves under the dress. Some "boyfriend cut"-style cardigans are proper choices for this outfit. This style helps spring and summer dresses keep going in the fall and winter. Sometimes long cardigans or sweaters can be worn with just a tank-top underneath and over loose-fitting pants or a skirt.
Wear a tank-top underneath dresses or shirts that are low-cut to cover your chest. This option is much better than wearing a large scarf, which can require frequent rearranging.
Be strategic in head-scarf selection. There are many ways to be fashionable with a head-scarf; just make sure the style coordinates with the outfit and actions for the day. For example, do not wear a long headscarf to volunteer outside with Habitat for Humanity. Use the head-scarf to balance out or bring together the colors or patterns in a particular outfit.
Tip
Use a fashion consulting agency. Emerald Brocade Consulting is a Chicago-based wardrobe consultant and personal shopper who specializes in fashions for Muslim women. EBC's website not only offers detailed and personalized fashion advice, it also has pictures of the clothing and websites where similar items can be bought.
Buy some clothes online. Depending on the person's location, it may not be possible to find adequately modest and yet fashionable clothing at your local stores. Several websites, such as We Love Hijab, show readers where to buy certain unattainable clothes and head scarves.