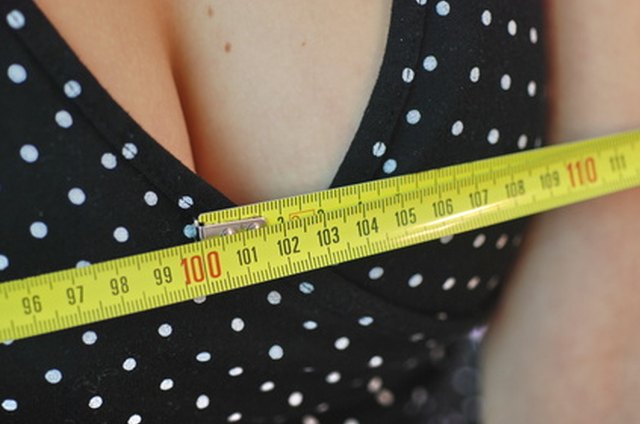 According to the Bare Necessities website, "Almost 8 in 10 women are wearing the wrong size" bra. And larger size women may have larger, heavier breasts, for which good support is essential. If your bra is leaving red indents in your body, you should purchase a new bra that fits well. You can measure yourself at home to find your proper bra size. The method for determining your correct bra size is the same for overweight and average weight women.
Put on a comfortable bra. It should not be a padded or breast-minimizing bra or you won't get a correct size.
Hold one end of the tape measure to the breast bone above your breasts. Wrap it under your arms and across your back until it reaches the starting point on your breast bone. Write the number down; this is your band size.
Measure around your back and directly over your breasts. Hold one end of the tape in front of your chest and wrap the tape around your back until it meets the first end over your breasts. Write down the number; this number will help you find your cup size.
Subtract the number you wrote down for step 3 from the number you found in step 2. Write down the resulting number, which corresponds to your cup size.
Plug your numbers from step 2 and 4 into bra size charts for the brand of bra you want to purchase. Retailers and brands don't agree on cup sizes for plus sized bras, so keep your measurements.
Warning
Don't squeeze your breasts when measuring for your cup size or you will get an incorrect size.