Pamela Follett/Demand Media
Deep frying turkeys is becoming increasingly popular, providing an interesting way of cooking the large bird for holidays. Deep frying cooks the turkey faster than conventional methods while maintaining moist and tender meat. The trend for cooking turkeys in the deep fryer has spawned a secondary trend for cooking other foods this way. Whole chickens can be deep fried, with the same positive results as with a turkey. Peanut oil is usually the oil of choice when frying poultry because of its flavor, and because it can withstand higher temperatures before smoking.
Pamela Follett/Demand Media
Rinse the chicken and pat dry with paper towels. Make sure all the giblets have been removed from the cavity.
Pamela Follett/Demand Media
Cut the skin open where the breast meets the thigh. This will reduce the possibility of a sudden release of moisture, which can be dangerous while the chicken is submerged in the hot oil.
Pamela Follett/Demand Media
Rub the chicken with herbs, spices or flavors, or cook plain.
Pamela Follett/Demand Media
Heat the peanut oil in the turkey fryer to 350 degrees F, checking the temperature gauge on the fryer to be sure oil comes up to temperature. If the fryer does not have a gauge, use a frying thermometer to check the temperature.
Pamela Follett/Demand Media
Truss the chicken according to the manufacturer's directions for the turkey fryer, using the skewers provided. Care must be taken to secure the chicken properly so that control of the bird can be maintained at all times.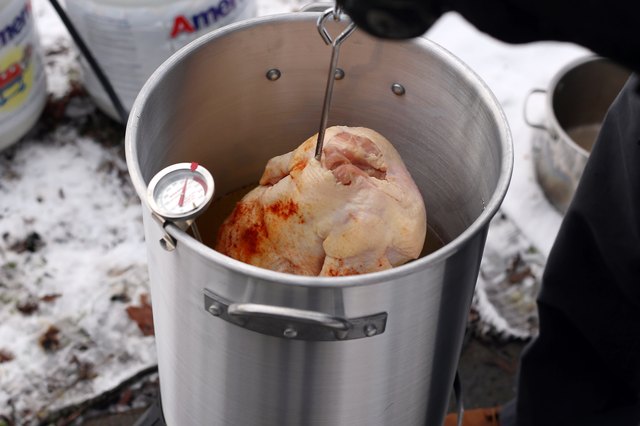 Pamela Follett/Demand Media
Lower the bird very slowly and carefully into the hot peanut oil.
Pamela Follett/Demand Media
Time the chicken at seven to nine minutes per pound.
Pamela Follett/Demand Media
Check the chicken after the earliest time has been reached. Insert the instant-read thermometer in the thickest part of breast or thigh. It should read 165 degrees F for the bird to be safely eaten.
Pamela Follett/Demand Media
Return the chicken to the hot peanut oil if it is not done, and check again at the later time. When chicken is done, remove it carefully from the hot peanut oil. Serve the chicken whole on a platter or cut into parts.
Tip
For extra flavor, the chicken can be injected with a liquid marinade.
Cook more than one chicken and freeze the extras for later use.
While the oil is still hot, fry a batch of onion rings or french fries, or make battered vegetables such as zucchini, mushrooms or eggplant to go with the meal.
Warning
Use extreme care when dealing with hot peanut oil in a turkey fryer. Follow all safety precautions in the user manual.
Use a turkey fryer outdoors.