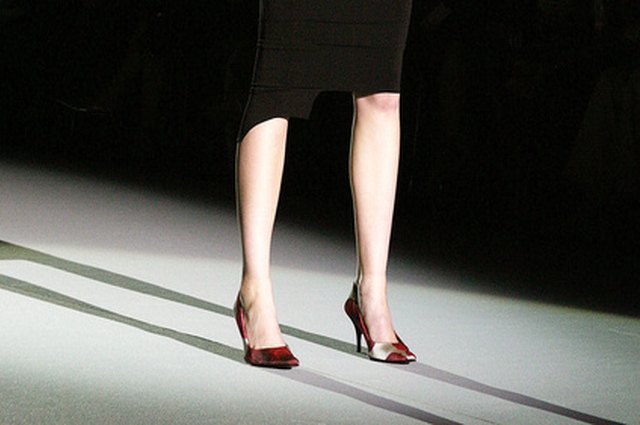 Decorating a runway area for a fashion show can add to the excitement, glamor and elegance of your event. Depending on your budget, decorations for the runway can be as elaborate as you desire. It is important to match the decorations to the general vibe of the fashion show so the audience is not distracted from the fashion. Thus, runway decorations should complement the clothing in regard to overall style, era, color palate and attitude.
Determine the themes that occur within the fashion show. The theme might be very obvious, such as bridal, 1970s or swimwear. However, the theme may be less blatant, such as futuristic, minimalist or military. Use this information as a basis for the entire decorating style.
Choose a color palate for your decorations that either matches or complements the color palate of the fashion pieces in the show. Use this color palate when you paint the runway, light the runway, create the backdrop and in any other decorations.
Light the runway along each edge. Use white or colored Christmas lights depending on the color palate of the show. Use candles if they fit better with the overall vibe of the fashion show. Lighting the runway is not only decorative, but it serves a function in allowing the models to see where they are walking.
Create a backdrop that separates the backstage area from the runway. The models will emerge from behind the backdrop as they enter onto the runway. Sometimes these backdrops have the name of the designer or the collection written across them. Depending on your budget, this backdrop can be a large piece of fabric that is hand painted or has been professionally printed.
Fill the room of the runway show with any other decorations that fit the theme of the fashion show. For example, if the fashion show has a bridal theme, place large bridal bouquets on any tables in the room or at the ends and edges of the runway. If the fashion is primarily swimwear, you can place beach balls whimsically throughout the room. For a show with 1970s style fashion, you could place shag carpet along the runway or beneath the audience's chairs.
Add hanging decorations if the room allows it. Hanging decorations can be large cutouts, such as glittery stars, giant pieces of fruit, flags of various countries or anything at all that relates to the theme of the fashion show. Use clear string to hang the objects so they appear to be floating.