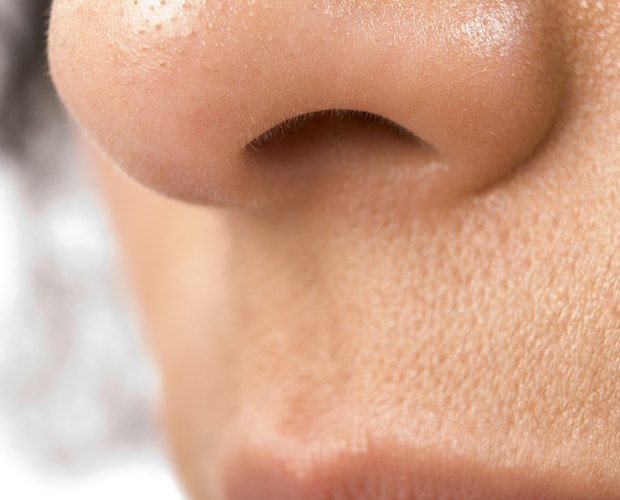 BananaStock/BananaStock/Getty Images
Nose huggies are the latest development in at-home rhinoplasty solutions. In the past, people who had large noses and wanted to reduce the size had to seek professional rhinoplasty surgery. Nose huggies offer an alternative. The clip is as easy to use as a clothespin and has foam guards so that the nose is not damaged. You can purchase nose huggies in stores or make one at home first to test the fit.
Cut one foam earplug in half lengthwise with craft or utility scissors. Cut the foam cleanly and evenly.
Place strong glue on the flat edge of each half of the earplug. Open the mini clothespin and affix the halves, one on each side, to the teeth of the clothespin. Position the foam earplugs with the glue side facing the clothespin teeth. Close the clothespin and allow the glue to dry completely.
Open the clothespin and wiggle the foam pieces to ensure that both sides are securely attached to the clothespin. Place the open clothespin over the bottom cartilage area of your nose. Release the clothespin and allow it to hold the nose. Do not leave the nose huggie on for longer than 15 to 20 minutes at one time.
Tip
Look for earplugs that do not have a cone or rounded-cone tip. Purchase cylinder-shaped earplugs at drug stores in the sleep aid section.
Locate a mini clothespin (as opposed to a regular size). Purchase these from craft stores, general merchandise stores or any store that carries laundry or crafting supplies.
Warning
If your nose begins to hurt while wearing the huggie, remove it immediately in order to reduce possible injury to your nose. Begin using the huggie again the next day as long as your nose no longer hurts.