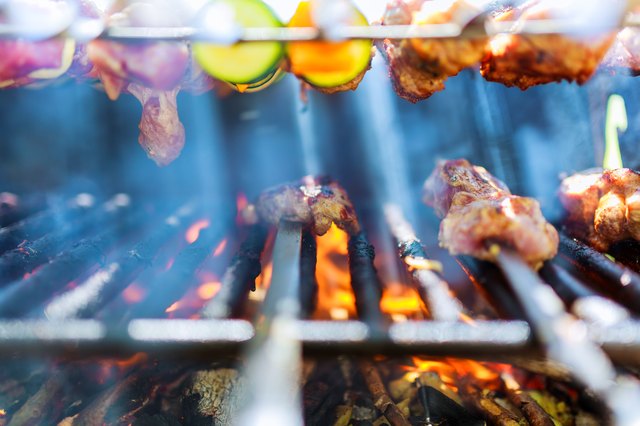 Hibachi is a cast iron grill that allows people to cook almost anywhere. The advantage of cooking over a fire and the special flavor the flame imparts make these grills popular. They are simple devices, but cooking on them requires keen attention to detail
Cooking Meat on a Hibachi Grill
Use smaller food items when cooking with a hibachi grill because the grill is smaller than your typical outdoor grills. Strips of meat, kabobs and hamburger patties are perfect for the hibachi grill.
Lay the meat strips perpendicular to the grill. Depending on the intensity of the fire, you must cook each side for about 2 minutes.
Try placing the hibachi grill on the patio table with the whole family around. Each person can cook his or her own meat to their liking. Hibachi cooking is a fun family activity when everyone can be involved.
Pull the meat off the grill and add it to your rice, noodles or vegetables.
Cooking Kabobs with a Hibachi Grill
Marinate the poultry in a sweet and sour sauce for 6 hours.
Cut up vegetables like bell peppers, onions and zucchini. Make sure you cut them to size so that they can be skewered for kabobs.
Skewer a piece of poultry and then a vegetable. Continue until all the kabobs are made.
Make sure the kabobs are placed on the hibachi grill at medium temperature. Grill the kabobs on each side for about 7 minutes.
Tips
Maintain steady heat while cooking with the hibachi or the grilling is thrown out of balance.

Hibachi needs to be thoroughly washed after grilling poultry to prevent contamination.

All meat needs to be grilled at 160 degrees Fahrenheit.

A charcoal hibachi creates an excellent, flavorful taste of the food you grill. Food gets cooked quickly and as a result the natural taste is captured. A sizzling steak grilled over charcoal hibachi is nothing but a pleasure moment.

Charcoal goes in the grill bottom and is lit. The intense heat caused by the charcoal can last for hours.