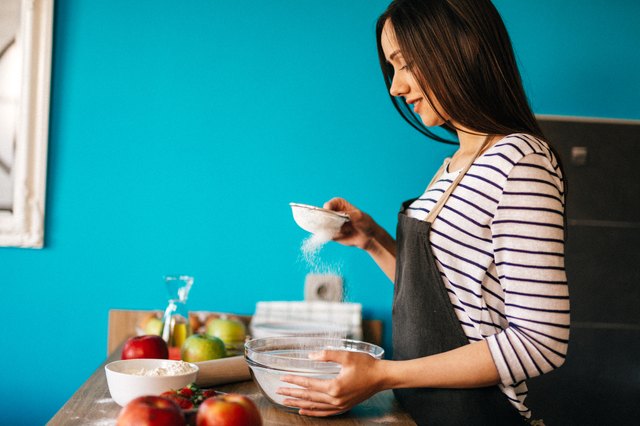 Self-rising flour is a type of "soft" flour that contains added baking powder and salt. When speaking of flour, the term "soft" indicates a low-protein content. According to Nathalie Dupree in "New Southern Cooking," soft flours, including self-rising flour, are traditional in the American South where lower-protein winter wheat predominates. Cake flour is also a low-protein flour that you can convert to self-rising.
Measure 1 level cup of cake flour into a mixing bowl. To measure accurately, spoon the flour into the measure and then level off the top using the straight edge of a butter knife or a wooden spatula.
Add 1 tsp. of baking powder and 1/4 tsp. salt to the flour.
Whisk together all the ingredients.
Tip
Regular, all-purpose flour is a "hard" flour with a higher protein content. To use all-purpose flour in place of self-rising flour, add 1 1/2 tsp. baking powder and 1/2 tsp. salt per cup of flour. Be aware that all-purpose flour, and all hard flours, hold more liquid than soft flours. If your recipe specifically calls for self-rising flour, you may also have to add some extra liquid.