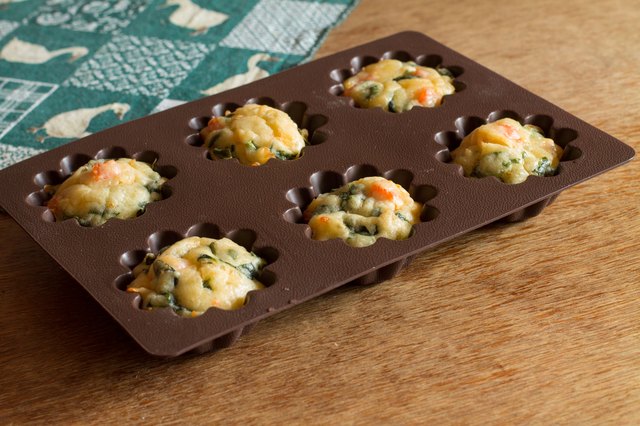 Silicone bakeware provides a durable alternative to your old metal muffin tins, cake pans and loaf pans. It usually cleans up easily and it isn't prone to baked-on residue, but occasionally it may develop a sticky film. This film isn't caused by the silicone, but from the cooking spray you use to keep the baked goods from sticking. You can remove it without damaging the silicone, but it's better to avoid the problem from the beginning.
Soak It Well
The sticky, greasy residue on a silicone pan may require long soaking to come off. Fill a sink with warm water and add a squirt or two of a grease-cutting dish-washing soap. The soap will help loosen the grease so you can get the residue off. You may need to replace the water and soap once or twice before the sticky residue wipes off completely. You can also wash most silicone pans in the dishwasher, but it's best to remove as much residue as possible before doing so.
Scrub Lightly
Abrasive cleaners and scouring pads may work well to remove residue from metal bakeware, but they will ruin your silicone pans. Instead, use a sponge or dish cloth to scrub lightly at the residue after the pan has soaked for 15 to 30 minutes. Avoid scraping the silicone, because this can cause small abrasions that will permanently damage your bakeware.
Skip the Spray
Nonstick cooking spray is the main cause of a sticky residue, but even silicone pans labeled as nonstick need a little grease. Instead of the spray, coat the inside of the pan lightly with vegetable or olive oil. For cakes and breads, you can also sprinkle a light dusting of flour on the inside of the pan. After baking, wash the silicone bakeware immediately so no sticky residue forms.
Prepare Properly
Preparing your new silicone bakeware before you use it can help you avoid residue problems and cleaning issues later. Some new bakeware may have a detailed seasoning process described on the label, which you should follow. If there's no instructions, wash the pan thoroughly in soapy water before its first use. After drying the silicone, brush the inside with vegetable oil and then wipe out the excess with a paper towel.