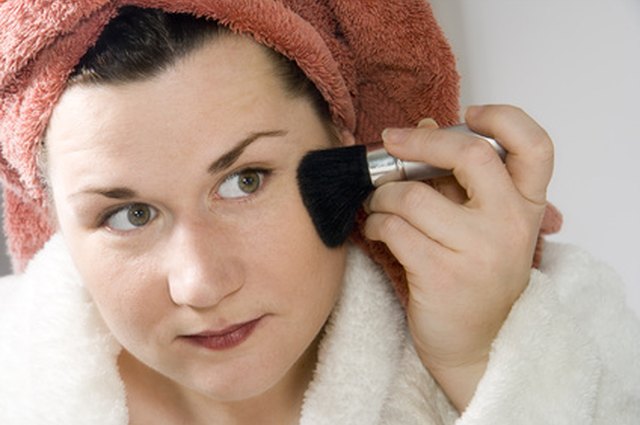 Kabuki makeup brushes gained popularity since the development of mineral makeup. The shape, density and tapered brush head are ideal for the application of powdered mineral makeup. Kabuki brushes tend to be quite expensive depending on the quality of the bristles, but many users agree that these specially-designed brushes create a flawless face that is worth the investment. In order to keep your kabuki brush at its best, it is important to spot clean weekly and deep clean at least once a month.
Spot Clean Weekly
Spritz your kabuki brush with spray brush cleaner once a week. If you use your brush daily, you may want to spritz the bristles more often.
Lay the brush flat and dampen both sides of the kabuki.
Wipe the moistened brush bristles with a clean cloth. Continue wiping the bristles until the brush comes clean.
Deep Clean Monthly
Hold the brush bristles under running warm water until the brush is saturated. Be careful not to submerge the base of the bristles as water can dissolve the glue that holds the bristles onto the brush handle.
Squeeze a dime-sized amount of baby shampoo (or mild soap) into the palm of your hand.
Swirl the brush into the soap in the palm of your hand allowing the bristles to lather completely.
Dip the soapy brush into the bowl of warm water to begin rinsing. Again, be sure to not completely submerge the brush as this can dramatically shorten the life of even the most expensive brushes.
Rinse the brush by swirling it around in the bowl of clean, warm water. Keep swirling until the soap has been completely rinsed away. Remove and wipe the brush clean; then lay it flat on a cloth to dry.