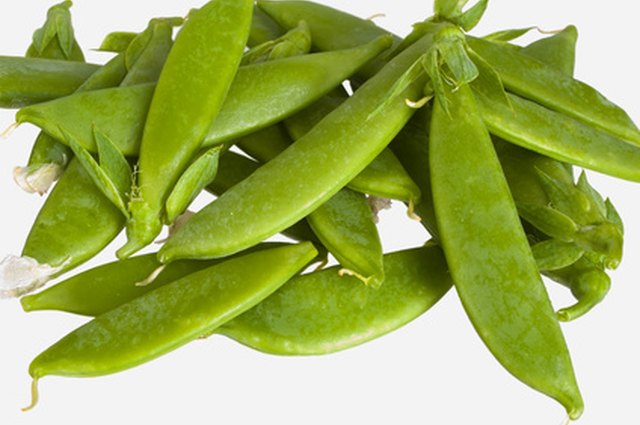 Harvesting a surplus crop of sugar snap peas presents a gardener with the potential for a winters' worth of delicious dishes featuring the crunchy green goodies. In order to preserve the bounty, cooks must blanch the sugar snap peas before freezing to prevent the plant's natural enzyme action from deteriorating the texture, flavor and appearance of the vegetable. Blanching is a simple, yet precise method of boiling, then cooling, vegetables to keep them looking and tasting their best when they are frozen for storage.
Wash 1 lb. of sugar snap peas. Peel away and discard the thread-like strings from the "seam" sides of the pea-pods.
Bring 1 gallon of water to a rolling boil. Place the washed, de-stringed pound of sugar snap peas into the boiling water.
Allow the water to return to boiling if the addition of the vegetables caused it to cool enough to stop. Begin timing when the water boils again. Leave the sugar snap peas in the boiling water for two minutes.
Remove the sugar snap peas from the boiling water with the slotted spoon. Place each spoonful of peas directly into a bowl or sink full of ice water. Cool the sugar snap peas in the ice water for two minutes.
Remove the blanched sugar snap peas from the ice water. Pack them in freezer bags or containers to preserve your harvest.
Warning
Keep work surfaces and all utensils clean and sanitary while preparing food for storage.