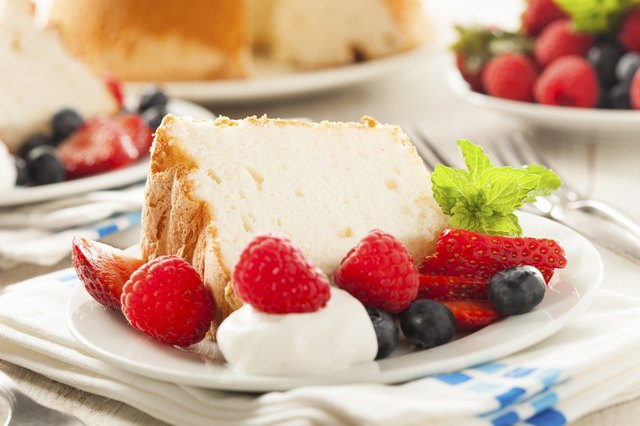 bhofack2/iStock/Getty Images
Start to Finish: 2 hours, 10 minutes Servings: 12 Difficulty: Beginner
Dieting shouldn't be all about deprivation. This classic two-ingredient cake is indulgent enough to satisfy anyone's sweet tooth, and only costs 5 Weight Watchers points, leaving you plenty of extra points to add berries and whipped cream and really take it over the top. The original recipe calls for a tube pan, but you can also make this in a 9x13 cake pan with excellent results.
Adapted from recipes published on the Weight Watchers and Betty Crocker websites.
Ingredients
Cooking spray
1 package angel food cake mix
1 20-ounce can crushed pineapple
2 cups fresh strawberries or blueberries, optional
2 tablespoons sugar or honey, optional
1/2 teaspoon vanilla extract, optional
Fat-Free whipped cream, optional
Directions
Preheat the oven to 350 degrees Fahrenheit. Spray a 10-inch tube pan or 9x13 sheet cake pan with cooking spray.
Mix the cake mix and pineapple, including the juice, until well combined.
Scrape the batter into the prepared pan.
Bake for 40 to 45 minutes until deep golden brown. Insert a toothpick into the center of the cake to test for doneness. If the toothpick comes out clean, the cake is done.
Put a cake rack on top of the cake and invert. Cool upside down for 1 hour, then remove the pan from the cake. If the cake doesn't come out easily, hold the rack firmly onto the pan and turn right side up. Run a butter knife along the edges to loosen the cake from the pan and try again. Cool the cake completely before slicing. Use a serrated knife to cut the cake into 12 slices.
While the cake is cooling, slice the strawberries, if using. Mix the berries with the sugar or honey and vanilla extract and let them sit for an hour.
Serve the cake plain, or top each slice with two tablespoons of fat-free whipped cream and two tablespoons of the berries and sugar mixture.
Tips
Experiment with other flavor combinations. Add up to 1/4 cup of toasted coconut to the recipe for a tropical flavor.
Replace the crushed pineapple with a 20-oz can of mandarin oranges in juice. Crush the orange segments before adding to the cake mix.
Make a strawberry version by pureeing two cups of fresh or frozen and thawed strawberries in a blender. Add the strawberry puree instead of the crushed pineapple.
Warnings
Using a 9x13 inch cake pan may slightly alter cooking times, depending on your oven. Use a toothpick to test for doneness every 3-5 minutes after 40 minutes of baking.