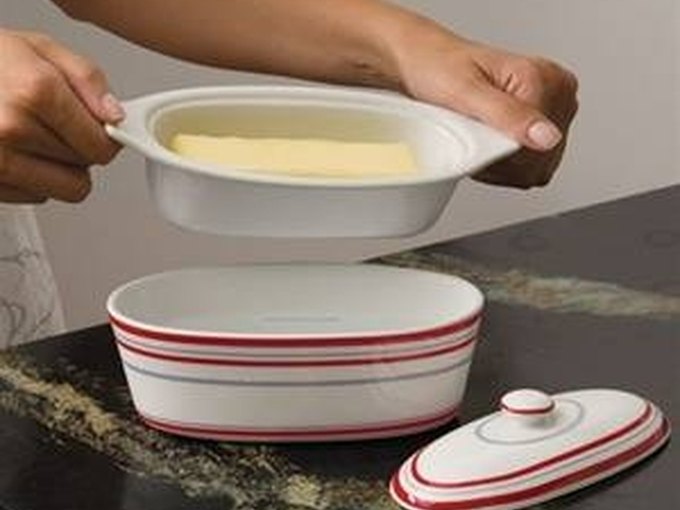 http://www.goldviolin.com/v/vspfiles/photos/91342-2T.jpg
Purpose
Keeping butter in the refrigerator causes it to harden. This makes it difficult to spread the butter when cooking or during meal time. However, butter must be stored in low temperatures to avoid becoming rancid or oily in consistency. This is especially true for real butter, which spoils faster than margarine and other artificially manufactured products. One solution to this problem is the butter boat.
Appearance
A butter boat is a ceramic or porcelain container of the approximate size and shape of a stick of butter. It contains three pieces. The bottom of the butter boat is filled with approximately half a cup of cold water. A second container of the same material is then fitted inside the water. This is where the butter is stored. A cover is placed on top to keep the butter fresh and free of dust and debris.
Results
The porcelain keeps the water cool, and the water in turn keeps the butter cool. This results in soft, spreadable butter without allowing it to spoil. The butter boat can be kept on a kitchen table or countertop indefinitely. Changing the water in a butter boat every few weeks is recommended.