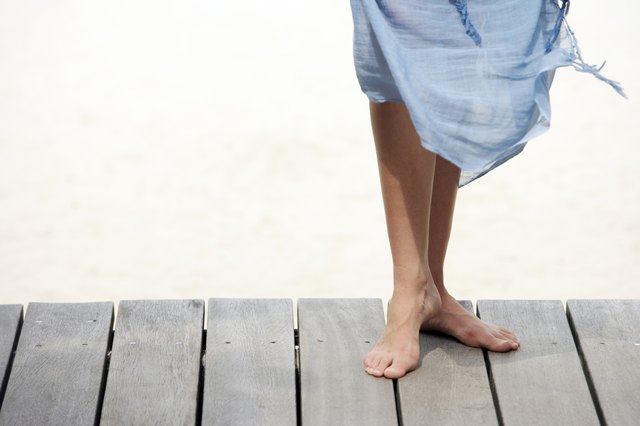 Goodshoot RF/Goodshoot/Getty Images
Women are often surprised when their feet begin to smell like a ripe camembert when they are pregnant. Triggered by the shift in hormones, it's not uncommon for feet to begin to sweat and secrete odor starting as early as the first trimester. After you recover from the initial surprise, there are some simple steps that will help prevent smelly feet during pregnancy.
Sweet Feet
Take a zinc supplement. Zinc deficiencies can cause foot odor for pregnant women. Load up on foods that are filled with zinc like walnuts, peas, dairy products, lima beans, ginger or cashews.
Scrub your feet with soap and water at the end of the day and dry thoroughly. Sprinkle baby powder or baking soda on your feet and slip on a clean pair of cotton socks.
Mix Listerine with water and soak your feet for a few minutes a few times during the day. Dry your feet completely after each soak. The antiseptic keeps the bacteria build-up at bay.
Stir up some vodka with a small amount of water. Soak a washcloth with the solution and thoroughly wipe your feet with the cloth. You can't drink it, but your feet will benefit greatly from the alcohol rinse. It will disinfect and ward away odor-causing bacteria.
Brew a pot of tea with two black tea bags. Let it cool and soak your feet in the tea. The tannic acid in the tea help keep the bacteria away.