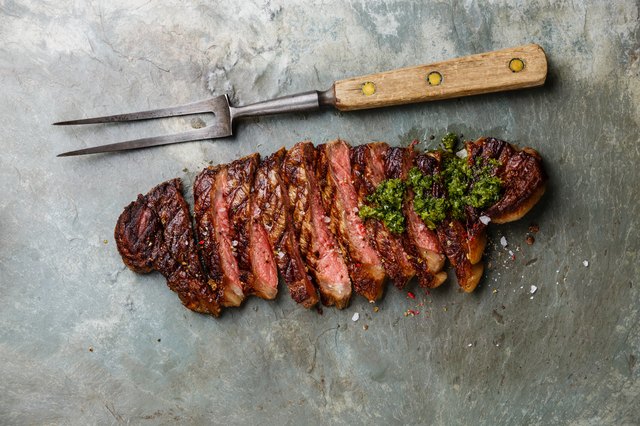 No matter what cut of beef you cook, salt and pepper bring the flavor to life. If you really want to elevate beef, throw in some herbs and spices.
Fresh Herbs
Fresh herbs work best when you sprinkle them over the meat just before serving. Try these herbs for steaks, hamburgers and any grilled beef:
Parsley
Cilantro
Chives
Chimichurri (an Argentinian mixed-herb sauce made with oil, vinegar and finely chopped parsley, oregano and garlic)
Dried Herbs
Sprinkle dried herbs on roast beef or add them to the pot for braised beef brisket. These work especially well with beef:
Rosemary
Oregano
Tarragon
Thyme
Bay leaves (for braised cuts of beef like brisket or stews)
Red pepper flakes (for steaks and hamburgers)
Spices
Spices work with all cuts of beef, either sprinkled on before cooking or tossed into a braising pot. For dry spice rubs on short ribs or steaks, use a mix of herbs and spices and let the rub sit on the meat for a few hours before cooking. Along with salt, pepper and dried herbs, add any of these:
Chili powder
Cumin
Curry
Coriander
Indian-inspired spice mixes (cumin, garam masala and cinnamon)
Tip
Dried herbs and all spices are more potent than fresh herbs. Substitute dried herbs at 1/3 of the amount of fresh herbs called for in any recipe.
Let steaks and hamburgers come to room temperature before cooking so that the meat cooks more evenly throughout without overcooking on the outside.
Before serving roasts and steaks, cover the meat loosely with foil so its juices have time to redistribute into the tissues; give steaks about 5 minutes resting time and roasts about 15 minutes.
References