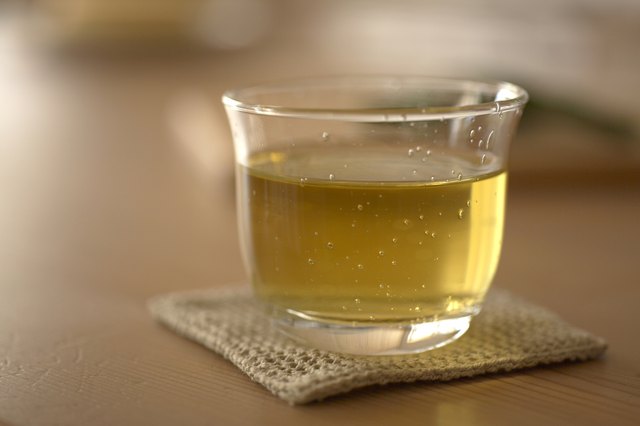 ULTRA F/Digital Vision/Getty Images
The health benefits of green tea have been known for thousands of years as it was used as medicine long before the discovery of brewing turned it into a drink. The ancient Chinese ate baked tea-leaf cakes for anything from digestive problems to depression. According to the Green Tea Expert and the Mayo Clinic, what makes tea in general and green tea specifically so powerful is its catechins (an antioxidant specific to tea) which are antiviral, antibacterial and anti-inflammatory. For these reasons, green tea is beneficial in treating scars left by acne or other causes.
Drink Green Tea
Good health starts from the inside, so drinking green tea is a good way to begin nourishing your skin, which is the largest organ in the body and the most visible sign of your health. When your body is burdened with toxins, the results show up on your skin, so addressing the external symptoms without getting to the root of the cause is only a partial remedy.
Get a good quality green tea from your local health food store, traditional Chinese or Japanese store or online. You can use any type of green tea, such as sencha, matcha or genmaicha and should aim to drink two to three cups per day. To prepare it, heat fresh water to just before boiling point, pour into the cup and steep for five to 15 minutes, depending on individual instructions. Do not add sugar to green tea as it will diminish health benefits.
Drinking green tea daily can also help prevent new acne breakouts, which are caused by bacteria, because, as Nadine Taylor, M.S., R.D. of Green Tea Library notes, the catechins in tea kill bad bacteria while maintaining good bacteria.
Green Tea Face Cleanser
According to Dr. Jennifer Gan-Wong of Memorial Medical Center, green tea also works as a topical application for skin problems, including acne scars, eczema and psoriasis. Epigallocatechin gallate, or EGCG, is another type of antioxidant found in green tea that that is very beneficial in reducing acne and scars by both cleansing the skin of toxins and neutralizing the bacteria that causes acne. Green tea has astringent properties which help diminish redness and inflammation.
For a facial cleanser, use pure, unflavored green tea. Heat one quart filtered water to just before boiling, pour over one cup of green tea leaves and let steep for about 20 minutes. Allow the tea to cool and splash on your face, or use cotton balls to dab directly onto acne scars. Do not rinse. Store the tea in a sealed container in the fridge.