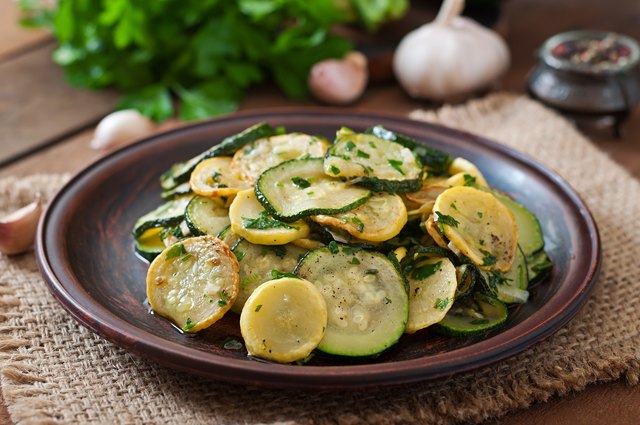 You will never go wrong with a liberal dose of salt and pepper and a pat of butter when cooking zucchini on the grill, in a sauté pan or in the microwave. Add a spritz of lemon juice to brighten the zucchini flavor and consider your seasoning complete.
That said, an assortment of herbs and spices brings variety to your zucchini side dishes. Its mildly sweet, yet also slightly astringent or vegetable, flavor has an affinity with lots of herbs and spices.
Tips
To let the flavor of zucchini shine, cut it into slices or planks, brush each piece with olive oil, season with salt and pepper, then grill on your barbecue or in a grill pan for a few minutes on each side. Cook the zucchini long enough for it to develop caramelized char marks and a soft interior.
Any of the fresh herbs that grow profusely in the summertime along with zucchini bring similar light, bright and fresh flavors. Sprinkle any one of these fresh, chopped herbs on zucchini pasta, pizza, quiche or soup after you finish cooking, or mix a few of the herbs together:
basil
chives
cilantro
dill
lemon thyme
mint
oregano
parsley
rosemary
sage
tarragon
thyme
Dried herbs, added either during cooking or sprinkled on after cooking, bring more potent flavor to zucchini and work well in zucchini casseroles, grilled zucchini, sautéed zucchini, and baked, stuffed zucchini.
basil
parsley
red pepper flakes
rosemary
thyme
Italian herb blend with a mix of dried herbs, salt and pepper
Tips
Use about 1/3 of the amount of dried herbs that you would use for fresh herbs since the former have stronger flavors and tend to overpower zucchini.
Because it has such a quiet taste, zucchini blends well with an assortment of spices. Use some familiar combinations, or experiment with your favorite spice blends or individual spices. Spices typically associated with zucchini include:
cajun seasoning blends with garlic powder, black pepper, dry mustard and celery salt
cumin
curry powder
garam masala, a blend of Indian spices that includes black pepper, cinnamon, cloves, coriander, cumin, cardamom, dried chilies and nutmeg
saffron
smoked paprika
sumac, a fruity, spicy spice made from dried berries and used extensively in Middle Eastern cuisine
Tips
Look for younger, smaller zucchini in the grocery to help ensure that you get a more tender vegetable. Store it in plastic in the fridge. It will keep for 4 to 5 days.