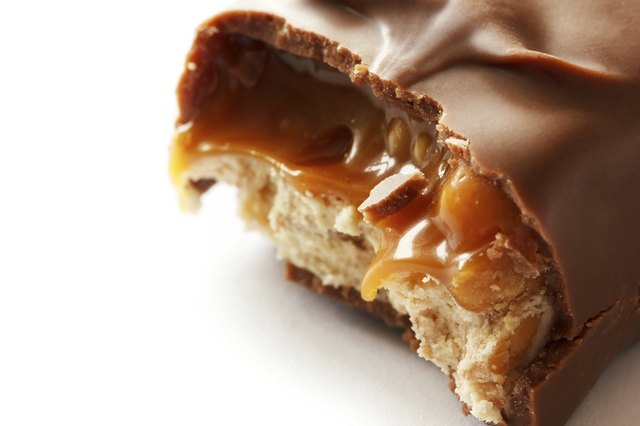 Cristian Gabriel Kerekes/iStock/Getty Images
Snickers bars were the creation of Frank Mars, the founder of the Mars candy company, who first released the sweet treats in 1930. You'll still find this milk chocolate-covered combination of caramel, peanuts and nougat on store shelves today in the U.S. and around the world. In fact, the Snickers brand alone now generates around $2 billion per year globally for Mars Inc.
Snickers History
The Snickers bar was the second candy bar created by Frank Mars, the first being the Milky Way, also still sold today. Frank Mars named the Snickers bar after one of his family's favorite horses, and the original bars sold for only 5 cents apiece. The longest-running Snickers campaign, which ran from 1979 to 1995, featured the saying, "Packed with peanuts, Snickers satisfies." While Snickers bars were first sold under the name "Marathon Bars" in the United Kingdom, they are now sold under the Snickers name worldwide. The bars are so popular that 15 million Snickers bars are produced globally each day.
Other Snickers Products
Snickers bars come in various sizes, including the original 1.86-ounce bar, the 0.6-ounce fun size bar and the 0.3-ounce bite size bar. You'll also find a "2 to Go" bar, which is 3.3 ounces and breaks apart into two servings. Mars produces a Snickers variety with almonds instead of peanuts, as well as one that contains peanut butter along with the traditional ingredients. You can even purchase a frozen variety that contains peanut butter-flavored ice cream, peanuts and caramel, all with a chocolate coating.