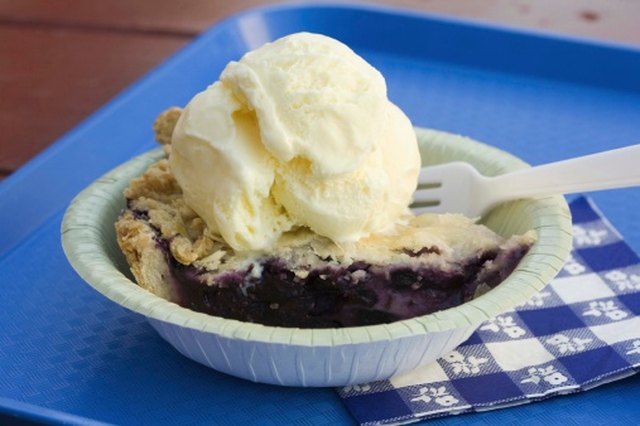 Jupiterimages/Brand X Pictures/Getty Images
To be well-prepared, brisket requires a long cooking time. Anyone who has tasted smoked brisket knows its distinct taste. For some people, the backyard cookout is the ultimate experience and a chance to show off some of their barbecuing skills to family and friends. Having made your brisket with an impeccable rub and smoked to a tender and juicy perfection, you will want to pair your barbecue with a well-matched dessert.
Grilled Pineapple
A warm, grilled pineapple goes nicely with many types of barbecue but especially with brisket. For a time crunch, canned pineapple rings are simple and taste good. However, there is something special about the smell and taste of a fresh pineapple. Grilling pineapple is not difficult. Prepare your pineapple by cutting the rind off and removing the center stalk. Cut the pineapple into rings. Dip each ring into melted butter, and then dredge into a mixture of brown sugar, with 1 tsp. of cinnamon, shaking off the excess. Grill until brown and sizzling, about five to eight minutes per side. This also goes well with a scoop of vanilla ice cream.
Fruit Pies, Cobblers or Crisps
There is a reason many barbecue restaurants serve fruit pies, cobblers or crisps at their restaurant. Fruit pairs naturally with the smoky taste and tender texture of brisket. Consider making a dessert that includes raspberries, blueberries or blackberries. The color is pleasing with brisket and the taste of the berries matches the tender flavor of the meat. While you can bake or purchase a premade fruit pie, cobbler or crisp, consider making one on the grill. When choosing fruits for grilling, purchase berries that are ripe or slightly soft in texture. Berries that are overripe will fall apart.
Strawberry Shortcake
Strawberry shortcake is another classic dessert that works with a brisket meal. For this dessert, you can purchase a premade angel food cake or shortcake shells or make one yourself. You can make this using a shortcake recipe of your choosing or consider making this on the grill.
Peach Melba with Raspberry Sauce
Peach Melba is traditionally a French dessert made of peach halves and a sweet Melba sauce made of sugar, vanilla and raspberries. A scoop of vanilla ice cream generally accompanies the Peach Melba. This dessert is good for dieters or diabetics. Make the Melba with a sugar substitute and serve with sugar-free ice cream or frozen yogurt. This recipe grills as well.