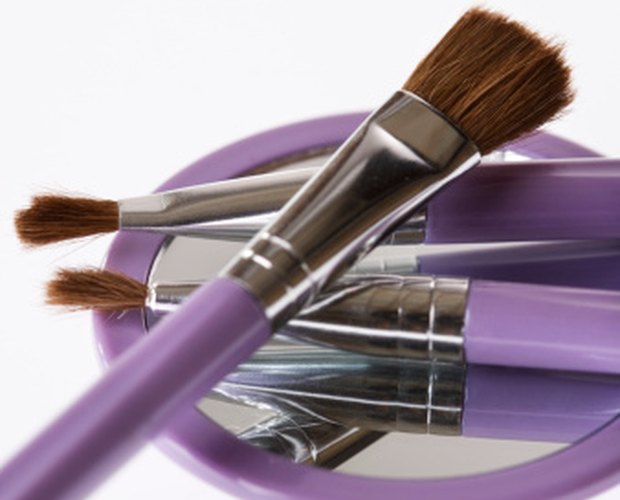 Thinkstock/Comstock/Getty Images
For those suffering from a devastating diagnosis, radiation and chemotherapy introduce the additional challenge of how to feel good about your appearance when your eyelashes have disappeared, or you are left with reddened or famously dry skin caused by chemotherapy. Though these changes in appearance are temporary, the emotional challenges of going through cancer can already overwhelm most people. With a few quick purchases and techniques, cosmetics can help restore dignity and maintain a sense of identity during dark hours.
Fundamental Skin Care
As any beautician will tell you, the basis of cosmetics -- for everyone -- is a regular skin care regimen. For cancer patients, caring for skin is especially key, since treatment can leave it dry, reddened, or with a new gray or yellow cast.
Soothing face washes are recommended, and moisturizing your face twice a day can help fight dryness, soothe irritation and keep it healthy. By moisturizing, you also set up the foundation for applying cosmetics smoothly and evenly.
Quick Cosmetic Tips
Whether you have always worn makeup or are a newcomer due to the effects of radiation or chemotherapy, a few specific kinds of products will be especially helpful during treatment.
Eyebrow kits -- including brushes, powder, wax and nonstick stencils -- can help overcome hair loss and restore the appearance of your face. Depending on your skin tone, the right shade of bronzer can help fight a pale or gray appearance. If you experience one particular side effect of chemotherapy drugs, darkened fingernails, choose a chic, sophisticated dark purple nail polish to cover them. Select a moisturizing lipstick to add color beyond a moisturizing lip balm.
"Look Good, Feel Better" Cosmetic Resources
The beautifully encouraging "Look Good, Feel Better" program for cancer patients provides a workshop and online resources for adjusting cosmetic routines to the rigors of cancer treatment. From suggesting concealer for discolorations and common dark circles to using mascara to counteract thinning lashes, "Look Good, Feel Better" provides advice for taking control of your routine -- and your appearance -- while you're undergoing radiation or chemotherapy.
Organic Paraben-Free Cosmetics
Most cosmetic advice for cancer patients is applicable regardless of the brands you use; so for cancer patients who are concerned about cosmetic chemicals, several brands solely carry organic, paraben-free makeup. All products from Tarte cosmetics, for instance, are paraben-free and organic; additionally, the company gives to several cancer foundations and the American Cancer Society. Popular brands are also beginning to offer natural and organic lines; Sephora carries these products now and Neutrogena has launched a paraben-free line, Neutrogena Naturals.