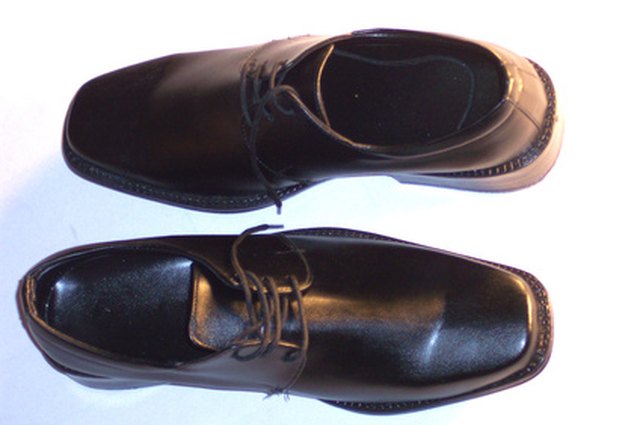 No one has the same feet, so when you're looking to buy shoes that run wide, it pays to know which brands are made exactly to your size. Many shoe brands only tailor towards the more popular shoe sizes, but there's a small list of companies that manufacture shoes in wide varieties. The following companies celebrate the wide-width shoe and sell many designs for those who wear shoes beyond the average size.
Skechers
Skechers gives customers over 100 selections of shoes that run wide, including shoes for work, fitness and formal gatherings. Skechers wide-width selection includes Women's Shape-Ups, which are designed to tone muscles as they're worn. Men can choose from steel-toe and slip-proof boots, sneakers and leather-upper dress shoes. Skechers' wide-width shoes come in a men's size 3E width and women's D-width.
Nike
From wide to extra wide, Nike makes a range of sneakers for men, women and children. The Nike Air Monarch III for men runs extra wide in width and runs from a size 6.5 to 15. The Nike Air Max Moto+8 is a sneaker designed for women that runs wide, from a size 5 to 12. Nike has a range of basketball and soccer shoes for men and women, as well as children's designs that run wide. Nike also allows customers to tailor their own shoes online with NikeiD, offering a selection of colors, sizes and designs to choose from.
Nunn Bush
This company has been making shoes since 1912 and offers customers the opportunity to search for shoes online according to width. There is a range of width sizes for men's shoes, including medium, wide and very wide. Styles include slip-on upper leather shoes, tie-up models suitable for hiking, and dress shoes with comfort gels. Boots, loafers and suede upper designs for men are also available.
Hush Puppies
Founded in 1958, Hush Puppies has a range of wide-fitting shoes for men and women. Dress shoes are available for women in a variety of widths that feature heels and straps and men's varieties include leather, waterproof and boat shoes. Customers can shop for kid's shoes, which also run wide, that are suitable for school or formal events.