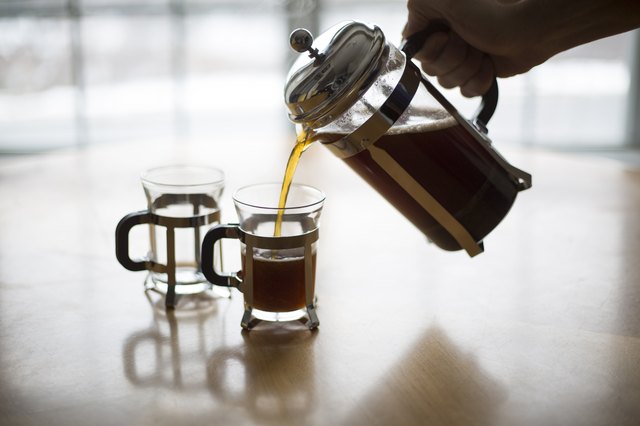 To prepare the perfect cup of coffee, many drinkers turn to a French press. A French press allows the coffee lover to enjoy a fresh cup rather than a cup that's been in a pot for several hours. A French press also is a green solution because it doesn't require electricity. The BonJour French Press is a popular choice because it's virtually unbreakable and very easy to use.
Start With Coarsely Ground Coffee
Coarsely ground coffee is essential for a French press. If the coffee is too finely ground, it will slip through the filter and cause sediment in the brewed coffee. While coarsely ground coffee can be purchased at a store, starting with whole coffee beans and grinding at home will ensure the best flavor. For every cup of water, a French press needs 1 tablespoon of coarsely ground coffee.
Add Boiling Water
This is where the BonJour French Press comes in handy. Its polycarbonate design ensures that once boiling water is added, the carafe will not break. Water can quickly be boiled on the stovetop, but for coffee drinkers who drink several cups a day, an electric kettle might be the best option. An electric kettle keeps water hot throughout the day, allowing for a quick cup of coffee.
Allow the Coffee to Brew
After pouring the hot water into the carafe, align the lid so that the splatter guard is in place. According to the BonJour French Press package, the coffee should brew for four minutes. The coffee can be brewed for a longer or shorter time depending on the drinker's preferences. Once the coffee has brewed to the desired strength, press the plunger down slowly until the coffee is filtered.
Further Filter the Coffee
The BonJour French Press is built with a patented filtering lid that helps prevent sediment from getting into the coffee. After the coffee is brewed, filter the coffee through the filtering lid by aligning the lid with the spout. Pour the coffee and enjoy.
Tips
Ground spices can be added along with the coarsely ground coffee to create flavored coffee.
Tea can also be brewed in the BonJour French Press.
To further prevent the press from breaking, warm the press with warm water before adding the coffee. This will help prevent thermal shock.
Another way to help prevent breaking is to allow the press to cool thoroughly before washing.
Resources