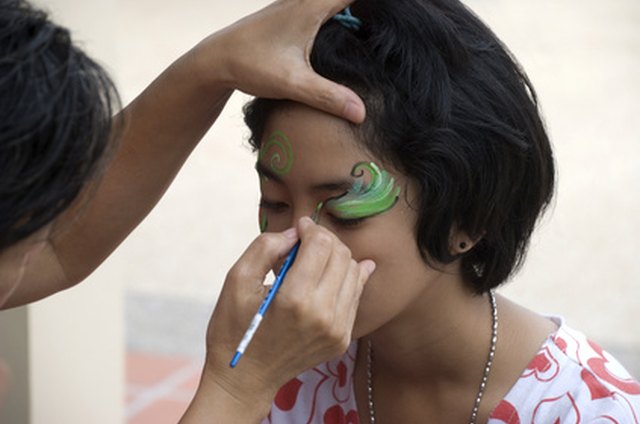 Face and body painting can be a very time consuming and painstaking process, especially for intricate designs that cover the entire body. Stage performers often wear body paint as part of their act and, because of the light and heat from stage lights, require makeup that will outlast perspiration and other elements. These popular brands of stage body paint are a good choice for anyone looking for a product that will not easily rub off.
Ben Nye
Ben Nye Makeup has been around for over 40 years and has a large collection of body paints in innovative colors and textures. This brand offers professional grade theatrical makeup that is designed for long lasting applications and can withstand heat and perspiration. Ben Nye's crème makeup is a popular choice amongst theatrical makeup artists because it comes in a wide array of colors, is easy to apply and can be blended for special effects. Ben Nye also manufactures special powders that help to set the crème colors for longer wear.
Pax Paint
Pax paint is a unique type of body paint that can be either purchased at a theatrical makeup supply dealer, or can even be made yourself. This unique body paint is composed of half pro-adhesive and half regular acrylic paint. The special adhesive portion of the paint allows it to adhere to the body until it is physically removed. The removal process of PAX paint is one of the downsides to this product — it can take hours and special solvents to remove the paint from a fully painted body.
Mehron Makeup
Mehron brand makeup was founded by New York makeup artist Mehron Melik in 1927. Ever since, Mehron has been creating professional style makeup for motion pictures, theatre productions, and for use in television programs. Mehron is now owned and operated by Melik's son, Martin. Their long lasting, professional body paints are used today by large groups such as Cirque du Soleil, and the Blue Man Group.
Graftobian
Graftobian Makeup Inc. is a family run theatrical makeup and supply business run out of the United States. This company was established in 1978 and has been manufacturing and distributing makeup items for the stage, television and other special effects. They use professional cosmetic grade, FDA approved ingredients to create body paint (and other stage products) that are resistant to perspiration and other elements.