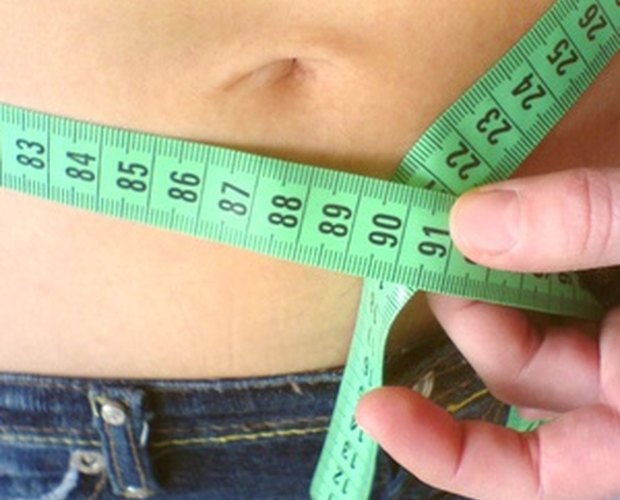 A waist cincher is a type of short corset that cinches, or pulls in, at the waistline. Functional waist cinchers make a woman's waist appear smaller than it actually is. Decorative waist cinchers exist for purely cosmetic reasons, such as part of a costume or lingerie set. Fabric and construction styles vary. Women have been wearing variations on this garment since at least medieval times, according to author Nora Waugh in her book, "Corsets and Crinolines." There are marked advantages and disadvantages in the use and wear of this undergarment.
Advantage: Smaller Waist
Waist cinchers are lined with metal or plastic strips called "boning." These strips serve as support structures for the garment. When shut, the boning reinforces the shape of the garment and compresses the body into that shape. Skin, fat, and fluids are compressed and minimally re-arranged to give the appearance of a slimmer midsection.
Disadvantage: Chafing
Because the waist cincher is a tightfitting undergarment, the possibility for chafing exists. If worn directly next to the skin, waist cinchers can rub the skin to the point of irritation, sometimes creating an open, raw wound. Even the softest of material has the potential to cause chafing. Some women find that chafing is alleviated by wearing a thin shirt or camisole between their bare skin and a waist cincher, while others find that this only increases discomfort.
Advantage: Posture
A waist cincher restricts the wearer's movement to a certain degree. Bending must be done in a way that accommodates the rigidity of the garment. Slouching and exhibiting bad posture are almost impossible when wearing a metal boned, properly-fitted waist cincher, though not to the same extreme exerted by a full length corset. Many women find wearing a waist cincher provides extra support. This extra support, in some cases, leads to the alleviation or elimination of back problems due to poor posture or lack of adequate support.
Disadvantage: Aches and Pains
For as much good as a properly-fitted waist cincher provides, an ill-fitting cincher can do damage. It is highly recommended that a waist cincher for regular use be made to the wearer's custom measurements and not purchased "off the rack." Ill-fitting waist cinchers contribute to aches and pains, making the experience uncomfortable and unpleasant even after mere minutes of wear. In addition to aches and pains, ill-fitting mass-manufactured waist cinchers may not provide the full amount of reduction possible.