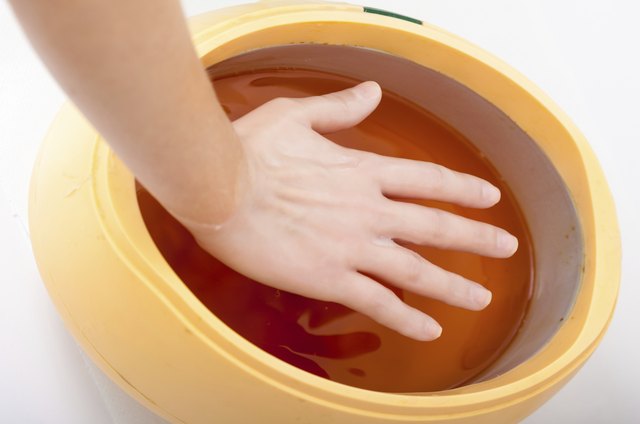 Voyagerix/iStock/Getty Images
Doctors who wanted to alleviate their patients' arthritis pain first used paraffin wax in the 1950s. Three decades later, during the 1980s, it became widely used as beauty treatment. You'll find paraffin wax treatments on the list of services at nail salons and spas, although this hydrating wax has benefits that go beyond skin-deep.
Soften Skin
Paraffin wax treatments are frequently used in spas or manicuring salons since this petroleum-based product hydrates and softens skin while coating the skin's surface. It also increases circulation to the skin and opens pores, which allows the hydrating elements to penetrate the outer layers of the skin. This makes it a good candidate for treating dry skin and moisturizing cuticles. Technicians apply paraffin wax by dipping the hand, foot or limb into the warm wax or brushing it on, allowing the wax to cool before peeling off.
Pain Relief
After being applied to the body, the wax encases the treated area, trapping heat and relaxing the surrounding tissues. This makes it particularly helpful for treating stiff joints and alleviating pain associated with arthritis, fibromyalgia, bursitis, tendonitis and sore muscles. Although residential clinics or spas may cover the entire body, paraffin wax treatments are typically used for limbs.