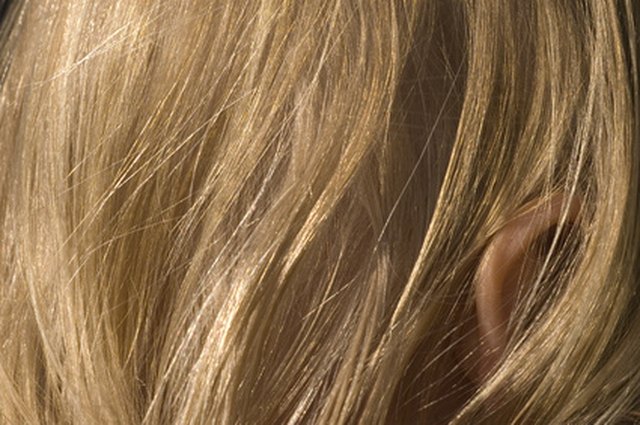 What to Look For
When shopping for the best and least expensive shampoos for color-treated dry hair, focus on brands that provide lines exclusively for colored hair. Simply treating your dry hair isn't enough; you also want a product that will keep your product vibrant longer. Look for moisturizing ingredients, such as shea butter, olive oil, and other rich natural additions to shampoo. Certain brands consistently produce high-quality haircare products at a low cost. Oprah's website recommends Joico K-Pak Shampoo, while Real Simple recommends Marc Anthony Ultimate Moisture Shampoo. On an even less expensive note, brands like Garnier, L'Oreal, and Sunsilk will also help protect your hair without stripping it of its color.
Common Pitfalls
Avoid certain ingredients that can work against your desire to keep your color-treated dry hair shiny and healthy looking. Products with alcohol, sodium lauryl sulfate, and parabens will dry out your hair even more and make your color fade quickly. Search instead for products featuring natural ingredients that will pamper your hair.
More expensive shampoos aren't necessarily better; in fact, many expensive shampoos contain the above-mentioned harmful ingredients. Instead of looking at the branding on the bottle, look at the ingredient list to find the best, least expensive shampoos for your hair.
Where to Buy
You can find excellent shampoos for dry, colored hair in many pharmacies and chain stores. For the cheapest prices, look at chains like Wal-Mart, Walgreens, and CVS. However, if you live far from one of these stores, your local drugstore most likely carries products that will work well on your color-treated dry hair; just be sure to read the ingredient list before purchasing the shampoo.
Cost
While salon shampoos can cost upwards of $30 a bottle, you don't have to spend that much to keep your colored hair healthy. By shopping at drugstores and other chains, you can find an excellent shampoo for less than $10 a bottle. Certain brands, like Marc Anthony and John Frieda, will cost slightly more than others like L'Oreal and Garnier. In general, expect to pay between $5 and $10 for the best, least expensive shampoos for your color-treated hair.