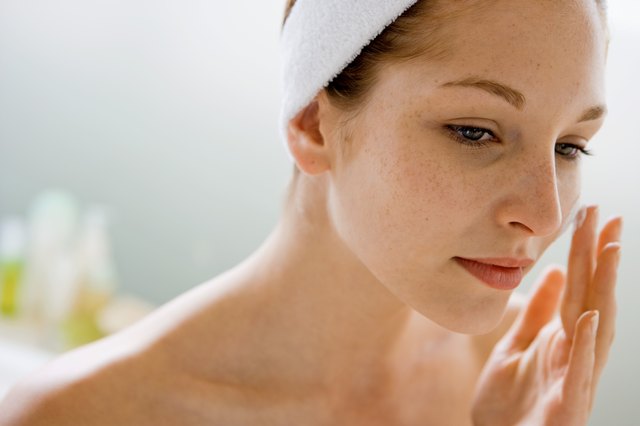 Jupiterimages/Pixland/Getty Images
Kiehl's line of skin care products includes cleansers, toners, moisturizers, scrubs, masks and eye creams. The Kiehl's cosmetics company began in New York City as part of a family-owned pharmacy. The brand, which prides itself on its rich heritage and natural skin care ingredients, does not rely on traditional advertising and marketing campaigns. Instead, the company relies on customer satisfaction and word-of-mouth, evidence of a strong and loyal customer base.
Cleanser
A good cleanser is the foundation of any skin care routine, and Kiehl's offers a variety of them. Kiehl's Ultra Facial Cleanser is one of its most popular products and can be used on a variety of skin types to both cleanse and remove makeup. The cleanser is gentle enough that it does not overdry skin, and it is PH-balanced to maintain the skin's natural balance. The cleanser is more expensive than a drug store cleanser, although the price is comparable to other specialized brands. The cleanser is also fragrance-free and water-soluble. (Reference 3, 4)
Toner
Toners are an essential part of any skin care routine, and they are typically used after cleansing. Kiehl's offers a variety of specialized toners to target specific needs, from pore refinement to clarity renewal. The Calendula Herbal Extract Alcohol-Free Toner is a basic toner that works for a variety of skin types. The toner contains no alcohol or harsh synthetic drying agents, making it a gentle alternative to other skin care products.
Moisturizer
The last step in a basic skin care routine is moisturizer, and Kiehl's offers many different moisturizers and cream for varying skin care needs. The Kiehl's Ultra Facial Cream is a popular Kiehl's product that works best with dry skin types. The product is extremely hydrating but also ultra light, and has been tested and proved to relieve skin dryness in just one week. The product helps to moisturize skin by reducing moisture loss while also absorbing moisture from the air during wear. The cream is advertised as locking in moisture for over 24 hours, making it a good moisturizer for long-term wear. (Reference 6, 7)
Eye Cream
Outside of the basic skin care regimen, Kiehl's offers a range of products targeted at eye and lip care. Kiehl's Creamy Eye Treatment Cream is a rich, moisturizing eye treatment that includes avocado oil among the ingredients. The cream helps to hydrate the eye area, making the skin around the eyes look well-rested and smooth. The cream, which has a light cream hue do to the avocado oil, is a vitamin-rich formulation which keeps eyes protected from dryness. Avocado oil helps to infuse the skin with amino acids, vitamins and potassium. The product also contains a rich concentration of ingredients such as beta carotene and sheer butter. (Reference 8, 9)
Scrubs and Masks
Scrubs and masks can be used to supplement a skin care routine, and the Gently Exfoliated Body Scrub is one of Kiehl's most popular products. The scrub comes in several different scents including lavender, coriander and grapefruit. The body scrub is creamy and full of naturally exfoliating particles which help to achieve smooth skin. The body scrub helps to remove dead skin cells without over-drying the skin, preparing the skin for moisturizers and lotions. (Reference 10, 11, 12)