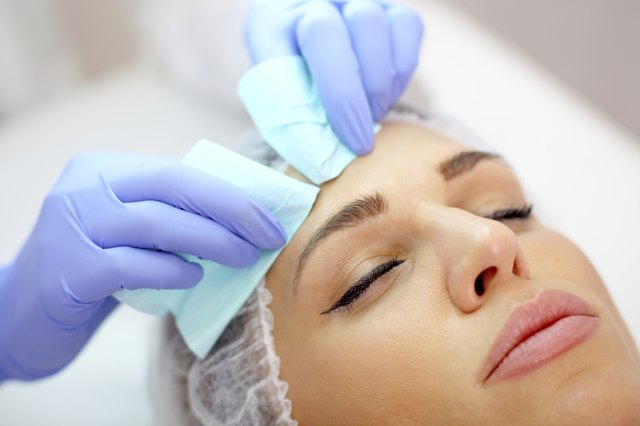 Nikodash/iStock/Getty Images
An uneven skin tone may be the result of overproduction of your natural skin pigmentation known as melanin. Excessive sun exposure damages the skin, promoting melanin production to increase in the damaged area. Uneven skin tone can make you look older than you actually are, despite efforts to reverse signs of aging with wrinkle creams and other over-the-counter anti-aging products. Treating uneven skin tone will make your anti-aging efforts worthwhile.
Cleanse your skin one to two times weekly with a gentle exfoliating cleanser to remove dead skin cells; this may give you a more even complexion. Keep in mind that exfoliation may irritate sensitive skin.
Apply a vitamin C-enriched moisturizer daily after cleansing, suggests CareFair.com. Ingredients such as vitamin C, ALA, also known as alpha lipoic acid, and DMAE, known as dimethylaminoethanol, may smooth out and correct skin tone.
Apply a hydroquinine bleaching cream to the darker spots on your skin; however, only use skin lightening creams under a doctor's supervision, to avoid excess lightening. Hydroquinine is found in over-the-counter and prescription strengths.
Schedule an appointment with your dermatologist for a skin chemical peel. A chemical peel removes the outer layers of damaged skin, exposing new, fresh skin underneath. Laser therapy treatments are also ideal for treating severe cases.