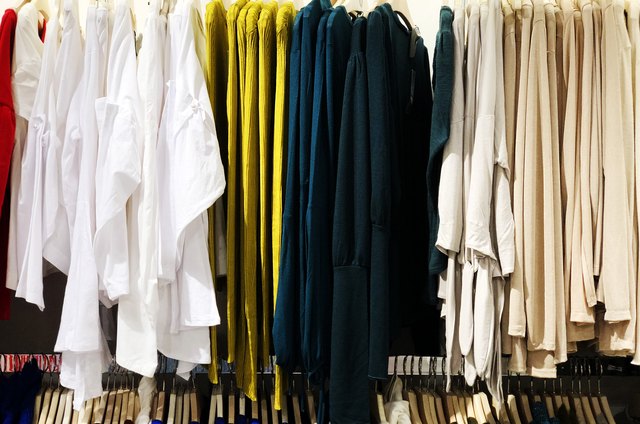 Right at the front of their list of the top trends in men's fashion for the spring and summer seasons of 2019, Vogue Paris called out neo-tailoring, which simultaneously caught the attention of men around the world and had them scratching their heads in unison. Apart from being a pretty new concept, it turns out that neo-tailoring is also a fairly broad term. In the end, that's good news for guys who want to get ahead of the trend while still maintaining a healthy dose of personal expression.
From Streetwear Beginnings
If you were to pinpoint the birth of neo-tailoring and, helpfully, give it one focal point that neatly encapsulates the whole style, it would be the arrival of the Supreme men's suit in 2018. Typically known for their chunky streetwear and logo-emblazoned tees, Supreme's unexpected two-piece spring suit was first available in salmon and green and just as quickly donned by sartorial-savvy men like Tyler, the Creator.
Following years of slim-fit, tapered-leg suits in black, navy, gray, brown and other classic colors lining the racks, Supreme's Easter-hued suit heralds a new age of the relaxed fit. Its defining features and the defining features of the neo-tailoring movement include a roomier waist, boxier blazer and straight-legged trousers with a little room near the ankles.
As GQ puts it, this look gives you "that DGAF attitude" and remains "one of the best suits on the planet" in 2019.
The Heralds: Dior and Vuitton
At the forefront of the neo-tailoring movement are designers Kim Jones of Dior Men and Virgil Abloh for Louis Vuitton, both of whom embraced and expanded the style in their 2019 spring runway collections, each of which went full bore on elevated tailoring.
Both collections give us some more design cues to glean from the neo-tailoring style. In Jones's Dior Men lineup, we see pewter-colored suits made of elegant fabrics that fit like well-tailored vintage pajamas. His suits embrace classic materials but aren't afraid to experiment with synthetics and interesting textures, including a little futuristic gloss, for instance. The lapels are wide and the fit is looser, a style that Jones calls "oblique."
Over at Louis Vuitton, Virgil Abloh's suits take heavy inspiration from the Afro-cultural styles of the early '90s, working in wide shoulders, loose pant legs and lots of buttons on a double-breasted blazer. Likewise, he brings the pleat (and even the double pleat) back to trousers. Taking a page from Helmut Lang's book, Abloh revels in mixing the casual with the formal.
Get Ahead of the Look
You don't have to shell out for a Dior, a Louis Vuitton or even an $800 Supreme suit to work the neo-tailored look into your own wardrobe. Follow some baseline fit and cut staples, sure, but remember that this vibe is all about how you wear it. With the right two-piece, you can scale this suit style so it works at the casual office, on the street or at the fourth wedding you've been invited to this summer.
Double breasted is back, as are wide lapels.
Look for unexpected colors like pastels, off whites, robin's egg, mauve or mint.


If your suit has a pattern, the combo of a bold pattern that's minimally expressed works well (like a retro plaid, floral applique or stripes on just one part of the blazer).


Don't be afraid to keep a more relaxed blazer buttoned up, allowing just a bit of a bold underlayer to peek through (runway models even rock this look shirtless underneath, but try that at your own risk).


This type of formal-casual fusion thrives when worn with a T-shirt – try solid colors with a patterned suit or bold graphics with a solid suit.


Layer the look with a matching trench coat over the jacket on cool spring nights.


For footwear, dress it down with desert boots, moccasins, trainers or even sandals.


Accessorize with a chunky necklace, gold jewelry or a pin – this is where you can dress it up or dress it down as much as you'd like. Abloh recommends taking a classic accessory and tweaking it just a bit.
At its core, neo-tailoring is a rebirth of men's suiting – a movement that both embraces the classics and recklessly subverts them. It makes the suit scalable, from daily wear to formal wear, and gives you the opportunity to experiment with stodgy classics. Embrace it, swagger and prosper.