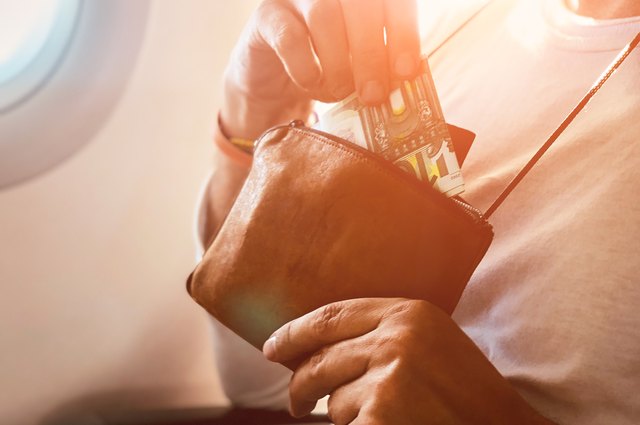 m-gucci/iStock/GettyImages
In English, the French term "sac de cou" literally translates to "neck bag," and it's a bag you wear around your neck. So, we're done here, right?
OK, if you're still here, hear us out. Like the sling bag on a diet, the sac de cou is a functional little accessory that's quickly finding its way into the men's fashion landscape thanks to designers like Fendi, Dior Men, Jacquemus and Givenchy. Not only is le sac easy to wear, but it represents that rare and welcome crossroads where a fashion statement can also hold your debit card, so you might as well embrace it while you can.
Sac de Cou Basics
Sac de cous come hanging on all sorts of different neck bands and lanyards and usually range in size from roughly the shape of a passport to a little bit bigger than a DVD case. Some are free-form satchels that you can use to hold anything you can fit in them, while others cater to specific items like your phone or cash, cards and documents.
Because of the variety of styles offered by a whole range of designers and merchants, this summertime fashion accessory most commonly works when you're dressed down, but it can also work with dressier attire if styled with a bit of care and a touch of restraint.
On a functional level, the sac de cou is also an ideal place to carry valuables such as your cash, cards or passport. That's right – no more stashing your goods in your shoes next time you're relaxing on a beach towel (and this solution is way more pickpocket-proof when you're traveling too).
Keep It Casual
Worn casually, le sac de cou works with a whole spectrum of dressed-down, warm-weather styles, from super shorts to California beach chic to more Bohemian vibes. Solid neutral shades and materials like cotton and linen make this one easy to pair with suede moccasins and floral print button-ups alike. Feel free to go with simple drawstrings or any type of closure here.
To lean into that '90s rave revival look, try a sac in Day-Glo colors or futuristic materials such as translucent plastic (great for moments when you need to go through concert security) or metallic synthetics. Pair one with a pair of cycling sunglasses to really pop it off. Likewise, bags with windowed fronts or those specially made to cater to certain gadgets work for casual and streetwear.
As for the strap, you can really go buck when you're pairing a sac de cou with a dressed-down vibe. Cloth and shoelace-like lanyards work (try neon or bright primary colors for a streetwear-friendly aesthetic), as do straps made of mesh fabric, which lend you a more utilitarian feel on your next hike. Lots of sac de cous feature bold, prominent designer logos, which tend to look best when paired with a solid shirt.
Dress It Up
To make a sac de cou work with more upscale wardrobe choices, think of it as a central pendant. Materials are the key, as are sturdy closures such as metal clasps, buttons or sleek zippers.
Keep the form factor slimmer if possible and go with materials such as genuine leather, a sturdy patterned cloth or thickly woven textiles for the storage compartment and metal or a finer fabric for the neck chain. Avoid logos or sac de cous made for holding electronics when dressing up with this look and go light on accessories when wearing a sac de cou with a button-up, suit jacket or blazer because it totally works as a statement piece on its own.
While le sac de cou works wonders with a trendy boxy blazer (akin to the popular Supreme two-piece suit), this little accessory also comes in handy when you're sporting well-tailored and fitted formal wear and don't want to worry about that pesky phone or wallet bulge. No George Costanza wallets for this guy.