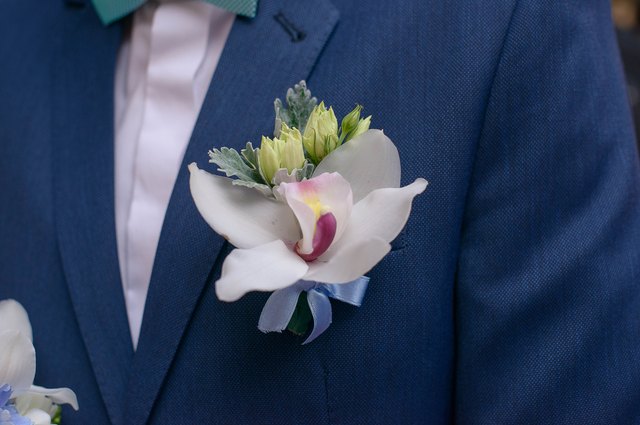 Ana Iacob/iStock/GettyImages
There's nothing like summertime. With the warm summer weather comes barbecues, summer flings and weddings – so many weddings – but who doesn't love a good wedding? A wedding is a great opportunity to get dressed up and celebrate life with the people you care about. One of the biggest challenges you may face as a wedding guest, however, is figuring out what to wear.
As a guy, it can be tough to make a statement in your formal wear. You don't want to seem too bold or like you are trying to upstage the happy couple, and there are only so many wedding-appropriate options in your closet. Luckily, summer is a great time of year for men's fashion. This is your chance to have a little fun with your style as a wedding guest (and eat a ridiculous amount of shrimp cocktail).
Take Note of the Dress Code
First thing's first: Before you start playing around with your fashion, check the wedding invitation for a guest dress code. Typical wedding dress codes include: casual, daytime, cocktail attire, semiformal, dressy casual, beach formal, formal attire, black tie optional, black tie or white tie.
If there is no dress code on the invitation, you can research the venue and base your attire on the look and feel of the wedding location. When in doubt, if the happy couple isn't specifying what their guests should wear, and you can't seem to get a grasp on things, you really can't go wrong with breaking out a nice suit and tie (cue Justin Timberlake dance solo).
As Long as I've Got My Suit and (Bow) Tie
A bow tie can be a subtle way to stand out and make a statement at your next wedding. A great way to spice up a traditional suit and convey your personal style, you can wear a bow tie as a pop of color, pattern and personality. Plus, you are bound to start some conversations and receive some excellent compliments at cocktail hour.
Strap on Your Dancin' Shoes
They say the shoes make the man. To ensure you are looking fine from head to toe, choose a great pair of kicks to finish off your look. There are a plethora of styles from which to choose depending on the wedding dress code and your personal preference. Make sure your shoes are still relatively comfortable, as you will want to be able to dance all night long.
Slip on Some Cool Socks
Pair your outfit with a pair of dress socks that make you smile. Even when you are in more formal attire, wearing a whimsical pair of dress socks is a wonderful way to express yourself and bring some personality to your wedding attire.
Or...Ditch the Socks at a Beach Wedding
Opt for a loafer or a lace-up shoe with no socks when at a summer beach wedding. There will be lots of sand, and trust us – socks just get in the way. You will probably end up kicking off your shoes for a walk by the shore by the end of the night, anyway.
Looking Cut in Cuff Links
Cuff links add a sophisticated touch to fancier attire. They come in many different styles, shapes and materials and can be a way to personalize your outfit when a wedding dress code is more formal and restrictive.
Change Up Your Hair
If you want to try out a different hairdo than the norm, this is your chance to do so. Style your hair with gel or pomade for a nice, clean look. If you are getting a haircut, test the waters with a new style like a fade, quiff or crop to upgrade your look and boost your confidence.
The Season for Seersucker and Linen
Summer is the chance to opt for fun, seasonal materials in your wedding attire. Wearing a lightweight seersucker or linen suit or blazer certainly makes a fun and festive statement while keeping you comfortable during outdoor ceremonies, daytime weddings or beach celebrations.