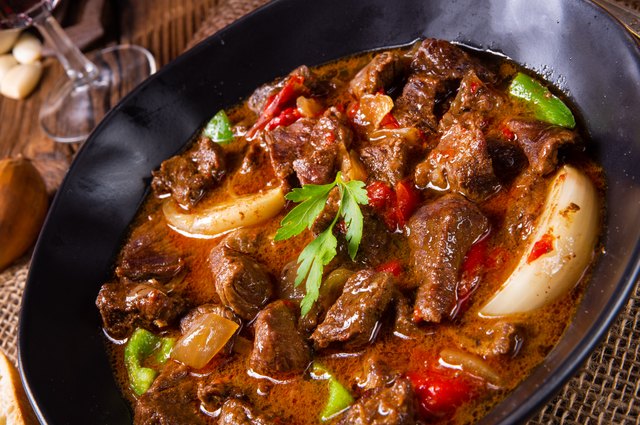 Dar1930/iStock/GettyImages
Goulash is a dish with regional variations all over the world. The two most popular versions in the U.S. are traditional Hungarian goulash and the American-style goulash that you'll remember from the school cafeteria! They may differ in some respects, but they're alike in their comforting appeal. And they're both really easy to make.
You may cringe at the mention of school cafeteria goulash, but you can make a version of this cheesy goulash that keeps all the comfort you remember but actually tastes really good, too!
American Goulash Recipe
Total Time: 1 hour, 30 minutes | Prep Time: 45 minutes | Serves: 4
Ingredients:
1 1/2 pounds ground beef
2 large white onions, minced
2 tablespoons minced garlic
3 cups water
1 (28-ounce) can crushed tomatoes
3 small fresh tomatoes, chopped
1 tablespoon Worcestershire sauce
2 teaspoons dried basil
1 1/2 tablespoon dried oregano
1 tablespoon sweet paprika
2 teaspoons seasoned salt
1/2 teaspoon black pepper
2 cups uncooked elbow pasta
1 cup cheddar cheese, shredded
Heat a little oil in a pot until it shimmers, then add the beef and break it up with a spoon. Cook for 7 to 8 minutes, stirring occasionally until it's no longer pink.


Stir in the onions and cook for 6 to 7 minutes, until they are soft, stirring now and then. Make a well in the center and drop in the garlic, letting it cook on its own for about a minute before mixing it with the beef and onions.


Stir in the water, the crushed and chopped tomatoes, Worcestershire sauce, oregano, basil, paprika, salt and pepper. Then increase the heat and stir until it just comes to a boil.


Cover and reduce the heat to low, allowing it to simmer for 20 minutes so the flavors can marry.


Stir in the dry pasta, replace the lid and allow it to cook for another 15 to 20 minutes. Give it a stir about every 5 minutes, especially at the beginning, to make sure the noodles don't stick to the bottom of the pot.


When the noodles are soft and have absorbed most of the liquid, taste the sauce and add salt if necessary. Serve in bowls topped with shredded cheese.
Traditional Hungarian Goulash Recipe
While the American version of goulash is a quick, family-friendly, one-pot meal, the original versions that are traditional in Hungary are more like a stews than casseroles, with a healthy portion of vegetables and more assertive seasonings. It's most important when making both the American and the Hungarian versions to use fresh, high-quality paprika. Sweet paprika made in Hungary is best for this dish.
Tip
Paprika is very sensitive to light and should be bright red – if it has turned brown after a year on the shelf, the flavor is gone and it's time to get a fresh can.
Total Time: 1 hour, 30 minutes | Prep Time: 30 minutes | Serves: 6 to 8
Ingredients:
1 tablespoon vegetable oil
2 pounds stew beef, chopped into small (1/2-inch) chunks
2 tablespoons butter
2 large yellow onions, finely chopped
1/4 cup imported sweet Hungarian paprika
4 to 5 cloves garlic, minced
1 huge or two medium red peppers, seeded and cut into 1/2-inch pieces
1 medium to large yellow pepper, seeded and cut to 1/2-inch pieces
2 to 3 fresh or 1 (14-ounce) can diced tomatoes
2 to 3 carrots, peeled and sliced 1/2-inch thick
1 pound Yukon gold potatoes, peeled and cut into 1/2-inch pieces
4 cups chicken broth, homemade or lower sodium if packaged, divided
1 bay leaf
1 teaspoon salt
1/2 teaspoon black pepper
sour cream
crusty bread (optional)
Heat 1 tablespoon vegetable oil in deep pot over medium heat. Add beef and brown on all sides, stirring occasionally for 8 to 10 minutes.


Using a slotted spoon, remove beef to a bowl and pour off all but one tablespoon of fat from the pan.


Add butter and swirl until melted, then add onions and cook, stirring several times, until softened and pan is starting to dry, 7 to 8 minutes.


Remove from heat, sprinkle paprika over onions and mix well until dispersed.


Return to medium heat, make a well in the center and add the garlic.


Cook for about a minute until fragrant, then add 1 cup of broth and the red and yellow bell peppers and stir until well mixed. Cook over medium heat for another 5 minutes.


Add the tomatoes, carrots, potatoes, the rest of the broth, bay leaf, salt and pepper.


Bring to a boil, cover, reduce the heat to medium, and simmer for 45 minutes to an hour until a paring knife inserted into a piece of beef or potato comes out without resistance.


Add salt to taste, and serve in bowls with a dollop of sour cream on top and crusty bread on the side.