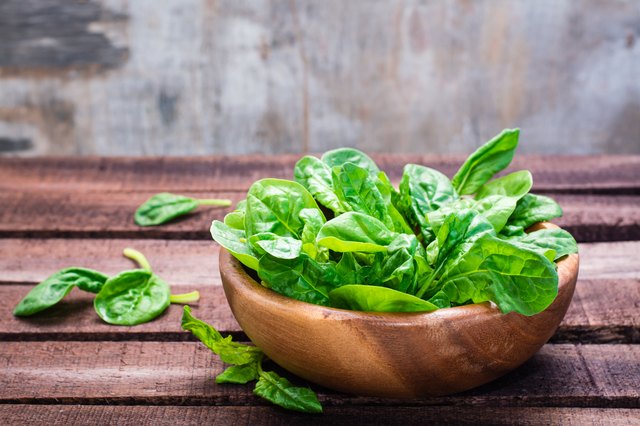 Elena Rui/iStock/GettyImages
Spinach salad is a classic dish. Whether it's served as a starter to a meal or as a light yet satisfying meal, a spinach salad typically begins with the leafy green as its base combined with other ingredients such as tomatoes, eggs, cheese, slivered almonds, walnuts and fresh or dried strawberries and cranberries. Variations on the spinach salad are abundant, and it can be served with a wide range of various dressings.
Spinach Is Smart for Health
Popeye isn't the only one downing the leafy green. Aside from its muscle-building properties and high iron and calcium content, spinach may also benefit eye health, reduce oxidative stress and reduce blood pressure. Spinach is also an excellent source of many vitamins and minerals, including Vitamin A, B6, B9, E, C, K1 along with folic acid, potassium and magnesium. Spinach is rich in lutein and zeaxanthin, which may protect eyes from damage caused by sunlight, preventing macular degeneration and cataracts.
Super Spinach Salad Recipe Ideas
At the popular grocery store, Trader Joe's, their version of the Super Spinach Salad is a vibrant salad that is protein- and veggie-packed. It's also a healthy, well-balanced meal that combines spinach, carrots, tomatoes, quinoa, chickpeas, edamame, dried cranberries and pepitas, or pumpkin seeds. A carrot/miso/ginger dressing is also included with the salad.
Super Spinach Salad Recipe
Recreate the Trader Joe's spinach salad, a protein- and veggie-packed dish that is equally great served as a stand-alone meal or when the spinach salad is split into smaller, appetizer-size portions. The dressing can be made ahead of time.
Total Time: 15 minutes | Prep Time: 15 minutes | Serves: 2
Salad Ingredients:
6 to 8 ounces baby spinach
3/4 cup cooked quinoa
3/4 cup shredded carrots
3/4 cup edamame
3/4 cup chickpeas
1/3 cup dried cranberries
1/4 cup pepitas (pumpkin seeds)
8 ounces grape or cherry tomatoes
Dressing Ingredients:
1/4 cup neutral oil (grapeseed, peanut or other light-flavored oil)
2 tablespoons rice wine vinegar
2 teaspoons pure maple syrup
2 large carrots, roughly chopped, or 1 cup grated
1 (1-inch-piece) ginger, peeled and minced
pinch of miso paste
water, as needed to thin
Dressing Directions:
1. Place ingredients in a food processor or blender and pulse a few times to mince the carrots. Scrape the sides. Blend again until smooth, scraping the sides as needed.
2. Taste for flavor. For more zestiness, add additional vinegar. Add water instead of extra oil to thin out the dressing. To thicken, add more carrots.
3. Store any leftover dressing in an air-tight container in the refrigerator for up to five or six days.
Salad Directions:
Place fresh baby spinach leaves in a large bowl.


Layer the additional ingredients, including edamame, chickpeas, carrots, berries, pumpkin seeds and quinoa.

Use a large spoon to stir and mix together the salad ingredients.


Once thoroughly mixed, top with dressing, serve and enjoy!
Savory Spinach Salad Recipe
This salad pairs feta cheese and apples for a savory-meets-sweet take on the spinach salad.
Total Time: 5 minutes | Prep Time: 5 minutes | Serves: 2
Ingredients:
5 ounces fresh spinach

1 apple, such as Fuji, thinly sliced

1/3 cup crumbled feta

1/4 red onion, thinly sliced

1/4 cup sliced almonds, toasted

1/3 cup olive oil
3 tablespoons red wine vinegar
1 clove garlic, minced
2 teaspoons Dijon mustard
kosher salt
freshly ground black pepper
Directions:
Whisk together in a medium mixing bowl all dressing ingredients until completely incorporated.


Season with salt and pepper to taste.

Combine all the remaining salad ingredients in a large bowl.

Add dressing, toss to combine and serve immediately.
Whip up a spinach salad for a light, refreshing and satisfying meal that comes together quickly and with ease. Or, opt to serve spinach salad in smaller portions as a delicious starter salad or appetizer course as part of a larger, multi-course meal.