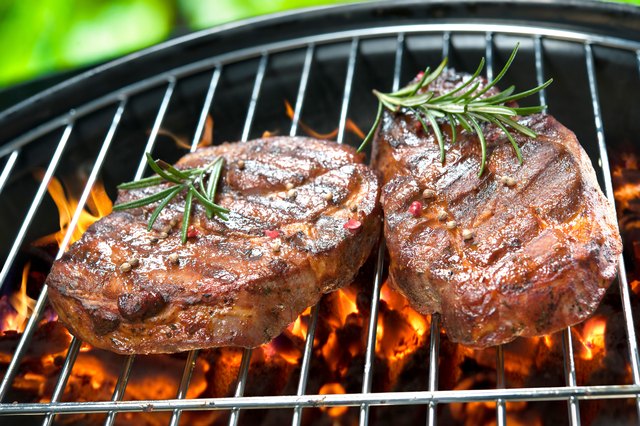 mesut zengin/iStock/GettyImages
BBQ chicken is a staple of any backyard cookout. It is a simple recipe to make that will delight your friends and family. Before preparing a BBQ chicken recipe, make sure you get the chicken pieces you and your loved ones prefer, whether dark meat, like the legs and thighs, or white meat, like the breasts. Keep in mind that it's much easier to dry out chicken breasts, so you'll want to have a digital meat thermometer on hand and take the chicken off the grill – or out of the oven – once its internal temperature reaches 165 degrees Fahrenheit.
Barbecue Chicken Recipe
Total Time: 2 hours | Prep Time: 20 minutes | Serves: 6
Ingredients:
One whole chicken, cut into halves
¼ cup rice vinegar
2 tablespoons of your favorite BBQ sauce
2 cloves crushed garlic
1 tablespoon salt
1 teaspoon black pepper
1 teaspoon paprika
1 teaspoon onion powder
½ teaspoon cayenne pepper
½ cup of BBQ sauce or more if needed
Directions:
Using meat scissors or a sharp knife, cut the chicken into pieces, dividing up the wings, legs, thighs and breasts.


Whisk the BBQ sauce, rice vinegar and garlic together in a large bowl. Put the chicken in the bowl and coat it in the marinade.


Place the chicken pieces in the bottom of the bowl and cover with plastic wrap. Or, put the chicken pieces into a large zippered plastic bag along with the marinade. Refrigerate for an hour.


Preheat the outdoor grill to 350 F. Lightly oil the grill grates. To make BBQ baked chicken in the oven, preheat the oven to 425 F.


Remove the chicken from the refrigerator and pat it dry. Throw away the marinade. Put the chicken pieces on a plate and season with cayenne pepper, paprika, salt, black pepper and onion powder.


If using a grill, place the chicken, skin-side down, on the grates. Cook for three to four minutes, turn and close the grill. Baste the chicken with the remaining BBQ sauce every six minutes for about 35 minutes, or until it reaches 165 F. When done, the chicken should not look pink at the bone, and its juices will run clear.


If making baked BBQ chicken thighs, breasts, legs or wings, line a large baking sheet with foil. Place the chicken pieces on it, skin-side up and bake for 30 or 40 minutes or until their internal temperature reaches 165 F. Then turn the oven to broil and brush on any remaining BBQ sauce until the sauce thickens and the skin is crispy (about five minutes).
Enjoying Your BBQ Chicken Recipe
BBQ chicken is a great source of protein that goes well with a number of different sides. Consider pairing it with classic BBQ favorites like corn on the cob, baked beans, potato salad, coleslaw, macaroni salad and grilled vegetables.
As a safety precaution, make sure you don't cross-contaminate when preparing the BBQ chicken recipe and the sides. Use one cutting board for the raw produce and another one for the raw chicken. Use separate plates and utensils for raw and cooked foods, and use hot, soapy water to wash kitchen items that were used for raw foods.
When you're shopping at the grocery store, use separate plastic bags for your raw chicken and store it in the refrigerator in plastic sealed bags. Freeze the chicken if you're not going to use it in the next few days. Note that if the chicken has gone bad, it will be grey in color instead of pink, and will have a bad smell. Also, if slime remains after you've run it under cold water, chances are it's not safe to consume.